Our first impression of the new Zygo football boot was one of intrigue and curiosity.
What are those pods? Why are they there? Who came up with this idea?
So in our quest to find the answers, we pinned down the inventor of the Zygo football boot and asked him!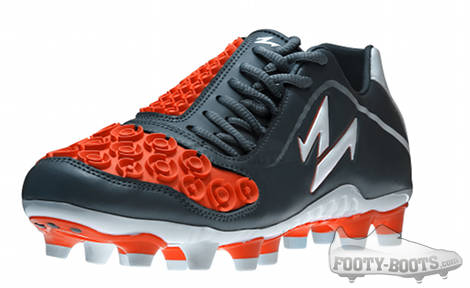 The Zygo Deztruct football boot
ZYGO Sports Design P/L is a Melbourne based company, developing the ZYGO energy pod concept. Con Hatzilias is the'  inventor of the technology and director of the company. He has a professional background of 20 years in the sports industry, in various product and marketing roles.
Here's the Q & A with Con….
So, starting on the topic of football boots – have they always been an interest personally, or are they something you wanted to work on purely from a designers perspective?
I have a passion for sports footwear and equipment, and product development in general. During my university studies, I undertook project work for an Australian inventor named David Miers, who created the bladed football boot outsole. That experience gave me an insight into footwear and patents, and in many ways inspired me for the ZYGO project.
When I commenced this venture around 6 years ago, it was about being free to explore various ideas, to see if something more technical was possible Ĺ› something that could aid juniors with their skills development, and assist club level and elite players with their performance. A motto for our journey was "in an open mind there are many possibilities". At the time, there seemed a shift towards fashion and aesthetics in the football boot market.
Zygo kid's boots 'all about skills development'
Looking at the boot, it's got a familiar shape, but the 'pods' on the Zygo Deztruct are like nothing we've seen before! What's the inspiration for such a unique component?
One concept that I started exploring was this abstract idea of a ‹Ĺ›finger print˘€žË˜ – the arrangement of an inner and outer biometric pattern. Why do we have this pattern? It gives humans touch and feel '¦ if we were able to
capture this quality on a boot, could it give a player more grip? What could we do to add an energy element? These questions started the path that we are on today.
Various incarnations have led to the current design. The ZYGO energy pod concept is patented/pending in many regions, including Europe, Asia and North America.
We've seen claims that Friction enhances accuracy, power and control for the best part of two decades now – how does the Zygo Energy pod design take that to the next level?
In a nutshell, strategically shaped pods have been placed on the key ball contacting areas of the boot: the throat, toe and instep regions. The energy pods perform like a spring, storing and releasing energy which
generates power. The ensuing friction provides exceptional grip. With better grip, comes better ball control, and thus accuracy and swerve.
What I would like to communicate to readers is that the energy pod concept has many possibilities. When you start looking at the variations of pod height, size, density, compound, position on the boot etc, you can create a boot range that addresses various player desires, specific playing positions etc.
The Deztruct model is called ‹Ĺ›deztruct˘€žË˜ for a reason Ĺ› it is our maximum energy pod set up and particularly suited to the club level player.
Moving forward, the plan is to release models with different energy pod configurations. Add alternative upper materials (e.g. leather), outsole options (screw-in, turf, indoor) and in the broader picture sport specific (e.g. Australian Rules) models, in many ways this concept is just getting started.
We know the boots have been tested and vetted by the likes of leading sports labs like those in Manchester – what do facilities like that provide you with that you can't get from player feedback?
From my view, having sports labs test the technology helps to scientifically validate player feedback like ‹Ĺ›I can feel more grip˘€žË˜, ‹Ĺ›definitely see something happening with the ball˘€žË˜, ‹Ĺ›feels like I˘€žË˜m kicking further˘€žË˜ etc.
For example, in a recently completed Boot Test in Soccer International (Australia) magazine, the ZYGO Deztruct scored 14/15 for passing, crossing and shooting Ĺ› which is inline with the lab testing outcomes.
Footwear is also such a personal thing Ĺ› what works for one player doesn˘€žË˜t for another, be it elite professionals or amateur club players. Then you have all the variables of different shape arches and heels, foot width
etc.
Joseph Keenan of Adelaide United, a former Chelsea player in Zygo Deztruct's
Over the last 10 years, we've seen the likes of Nomis and Concave emerge from Australia – what makes 'Down Under' such a hotbed of football boots design at the moment?
Australians have an incredible passion for sport, with Melbourne often talked about as a sporting capital of the world. It is a country with high levels of grassroots participation over many codes and we have produced many world class athletes, particularly for a relatively small population. I think our distance promotes free thinking '¦. and we often hold the ‹Ĺ›underdog˘€žË˜ status. I think all these play a part.
Concave and Nomis both struggled in their ventures into the football boots market – what gives Zygo the edge on how you're running the business?
ZYGO is a small sized company with a simple ownership structure. We are under no illusions with the challenges we face and are giving it our best efforts. We are offering players an alternative choice, starting small,
staying local for the moment and working on developing our range Ĺ› from the grassroots up.
Our original business model was based on licensing the Intellectual Property (IP), which proved to be viable. In 2007 we licensed the IP to Canterbury of New Zealand (CCC), out of their European subsidiary in
Manchester. At the time, CCC was sponsoring European football teams like Portsmouth FC, Deportivo la Coruna and AZ Alkmaar.
CCC wanted to grow their footwear business and were looking for a technical platform. However, ZYGO seemed to get lost and under resourced in a large organization with Canterbury Europe (and world wide) going into administration during the GFC. The CCC trademarks were eventually sold to JD Sports, with CCC largely exiting the football market.
After this, we changed direction and set up our own operation to take control of the IP and get things back on track. Since mid-November last year, we have been actively seeding the product in the Australian market.
This has included the boots being worn in the A-League, sponsoring club players, advertising in local media, club visits, working with coaches, launching a new website, developing a social media presence and visibility in specialist football stores.
Our strategy is based on a highly differentiated product line, competitive pricing, targeted promotion and distribution, controlling costs and ongoing investment in IP and R&D.
How does a football boot go from being just an idea, to a full prototype?
The journey of taking a boot from idea to commercialisation is a process of continual testing and prototyping. After each stage, you find out a little more until you reach a point where you are comfortable with the end result. You then develop final tooling across all sizes, sign-off on the specifications and run production under full QC conditions. Refining and developing the product is ongoing.
Navigating your way through off-shore footwear manufacturing is a significant challenge in itself. We have a solid relationship with our supply chain, which has been an important component of being able to ‹Ĺ›go
to˘€žË˜ market.
The general thinking tends to be that if a factory is going to devote resources to develop and sample a product, they are doing so with the reasonable expectation of receiving a production order down the line, and
with set minimum quantities.
One of my early frustrations was the non-existence of an Australian based athletic footwear manufacturing industry.
Finally, when can our international audience start to look forward to a Zygo release outside of Australia?
Our energies are focused on trying to secure an Australian distributor for the local 2012 season Ĺ› with the time frame being tight at the moment. We recently sampled our kids range and entry level model.
An alliance with a distributor that already has the necessary infrastructure in place i.e. greater resources, logistics, sales team etc., would be an important milestone.
Our strategy and timeframe for the overseas markets is yet to be locked-in. You may find ZYGO licensed to another brand, we may commence via the online channel Ĺ› all options are open at the moment.