It takes a lot to stand out in today's football boots market, but this cleat from Australian brand Zygo certainly did just that when the manufacturers got in touch with us!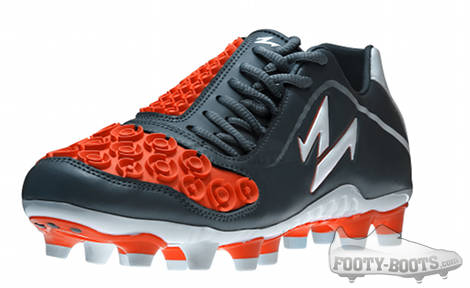 Hailing from Melbourne Australia, Zygo football are looking to make waves with their dramatic-looking design attached to their first ever football boots – the Zygo Deztruct.
Seen here in a Footy-Boots.com exclusive new Orange/Light Charcoal/White colourway, the Zygo Deztruct is aiming to be the next big innovation in the world of football boots.
The most striking thing about the Zygo Deztruct's design is the pods that cover the three main ball-contact areas of the boot – which work in three different ways to improve your game, according to their designers.
The energy pods perform like a spring, storing and releasing vital energy. The ensuing friction provides exceptional grip – assisting ball control and accuracy. The instep zone amplifies spin and swerve.
Inspired by the human fingerprint, the energy pod˘ design stimulates feel by absorbing pace when receiving passes, and provides larger ‹Ĺ›sweet-spots˘€žË˜ to reduce your margin for error.
The rest of the boot stacks up somewhat impressively, too. The Upper is constructed of a lightweight synthetic microfibre, similar to that used on previous incarnations of the T90 Laser series of football boots, is apparently some of the softest of it's kind, giving a great fit across the foot and providing comfort.
The Zygo Deztruct also utilises an asymmetrical lacing system to optimise the striking area on the throat of the boot, and provide a snug fit for passing on the instep.
TPU is another material that you'd normally associate with top-level football boots that the Zygo Deztruct has in spades; the chassis and studs are a highly durable TPU chassis that leads into an internal heel counter to enhance stability and player protection.
Currently, the Zygo Deztruct is only available in Australia, and is currently in use in the Australian A-League.
But Zygo assure us that an international release is in the pipeline, and when it's confirmed, you can be sure that Footy-Boots.com will be the first to let you know about it!
In the mean time, use the Boot-o-Meter and comments section to tell us what you think of the Zygo Deztruct!
ZYGO – DEZTRUCT, 7.0 out of 10 based on 98 ratings