Not content with already knocking out the likes of holders Shakhtar Donetsk and Italian giants Juventus, Fulham marched in to the semi finals of the Europa League on Thursday night after completing a 3 – 1 aggregate win over Wolfsburg.
Once again, the player at the heart of their success was striker Bobby Zamora. The one time West ham misfit knocked in his 19th goal of the season, this one with just 21 seconds on the clock, as the Londoner's won 1 – 0 on the night. And what a goal it was too. Taking a pass from Zoltan Gera he did an admirable impression of Johan Cruyff to create some space for a classic left foot finish.
Bobby Zamora also scored in the 1st leg at Craven Cottage
It marks the continuation of an amazing season for Zamora and ups the possibility that he, along with his Under Armour Dominate Pro football boots, could be packing his bags for the World Cup this summer. If so, what a coup that would be for the American company after many fans ridiculed their choice of Zamora as a brand ambassador when they first came upon the scene last season.
Under Armour Dominate Pro
In fact, Zamora has been an inspired choice for UA. Not only has he been banging in the goals, but he seems fully committed to the Under Armour brand, as opposed to just being happy to take the money. Sure, some of the PR events that UA have put on haven't been as glitzy as what we have come to expect from the likes of adidas and Nike, but in terms of making a connection with the 'common man' or 'amateur player' they do looked to have worked well with Zamora at the heart of them.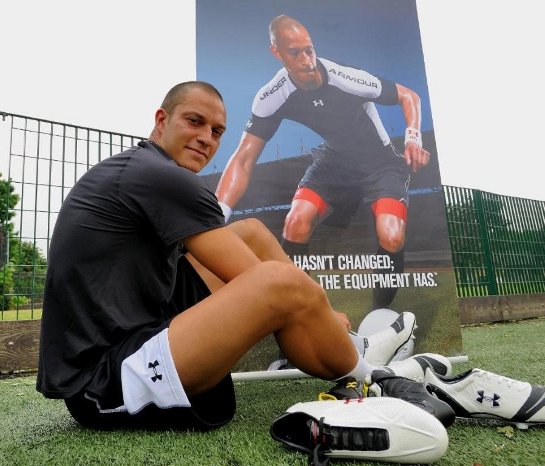 The England striking conundrum is one that is often discussed in the media, with many experts asking who coach Fabio Capello will take to partner Wayne Rooney. Crouch, Bent, Heskey, Agbonlahor seem to be the names in the frame but surely now Zamora must be in with a chance of getting added to that list.
Speaking about the possibility, Fulham boss Roy Hodgson, no novice himself when it comes to the rigours and requirements of international football, said:
This season everyone's realised what we did last year: that in Bobby we have a very good player. I'm sure that when Fabio Capello is looking at the players available to take to the World Cup he will make his assessment.

I know Fabio is aware of Bobby as a player, but Bobby can't do any more himself.
Among the 1,000 Fulham fans in Germany last night was actor Hugh Grant. Four weddings, a funeral and now a World Cup could well be on the cards.

So, is Bobby Zamora a real candidate for a place in Fabio Capello's squad? Have Under Armour made the signing of the year? Let us know your thoughts by commenting below.
Receive exclusive content and the latest football boot news. Just click onto Facebook or Twitter.com/Footy_Boots to join the leading community for footballers who care for what they wear!