To celebrate Zygo offering completely free shipping to the UK on all their boots, we've teamed up with the team behind one of the year's most exciting football boots to give away 3 pairs to our favourite people'  – you guys!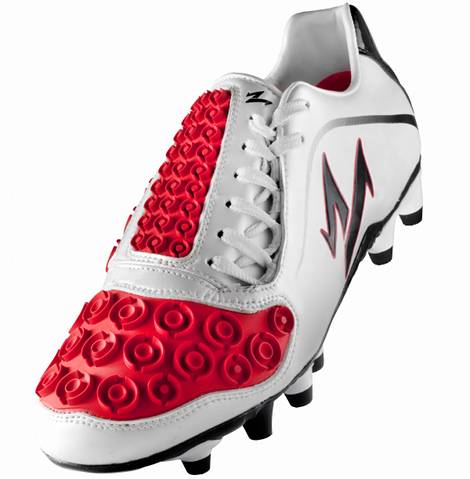 As footballers, we always want to find new and interesting ways to boost our success on the field, and the Zygo concept is all about doing just that!
However, there can be no doubt that the Zygo's bold design and completely unique energy zones might leave some people a little bit sceptical over the Zygo Deztruct's performance on the pitch.
Well, now that Zygo are not only shipping to the UK, but shipping to the UK for free, we've teamed up with the innovators at the brand to give away 3 pairs to our readers, so people who really know their' football boots can see what difference'  Zygo can make to their game!
And not only that, you're going to have 3 chances to win, tripling the odds of you starting the new season in a brand new pair of Zygo Deztructs!
Giveaway #1: Simply śLikeť Footy-Boots and Zygofootwear on Facebook and we'll pick a winner at random from the fans. Mentioning Footy-Boots & Zygo in a status update will also boost your chances of winning!
Giveaway #2: Head over to Twitter and copy and paste the following into your next post – "I'm competing to win a brand new pair of @Zygofootwear football boots on @Footy_Boots!" or Retweet our special competition tweets!
Giveaway #3:'  Answer the following question below:
Zygo take their name from a Greek word meaning 'Pairing' – which of the following is that original Greek word?
a) Zugo
b) Zoon
c) Zephyros [gravityform id=6 name=UntitledForm title=false description=false]
Put your answer in the form above, and if you're right you will immediately be entered into the draw to win (and if you need a little help, you can easily find the answer on zygofootwear.com's 'About' page!).
The competition closes at midnight GMT on Friday the 29th of July, with winners being informed the following Monday. Full Terms and Conditions can be found here.
Good luck!