Blatant. Totally blatant. You can forget all the post match comments of 'it wasn't intentional', Thierry Henry was at the heart of one of the worst examples of cheating on a football field last night and time has come to say enough is enough.
At the centre of a major storm, French international Thierry Henry
For those of you who missed it, like the referee and his assistant, the Republic of Ireland were leading 1 – 0 against France in Paris and seemed destined to take their World Cup play off match to a penalty shoot out.
But in the 13th minute of extra time came Henry's outrageous act. He handled the ball, not once but twice, before setting up William Gallas for the deciding goal.
On camera, Henry admitted that it was handball but said that he didn't mean to do it. However, Irish defender Richard Dunne told reporters that the Barcelona forward admitted to him that he had cheated.
Henry wears Reebok football boots, but should he any longer?
At least Henry should know how Dunne and his team mates will be feeling this morning. Who can forget his raw and emotional pitch side interview after the Champions League final of 2006 when he accused Barcelona of a less than honest approach during that game?
So what can be done?
First off it's worth noting that any retrospective action against Henry or France will be of little consolation to the Republic. France are off to South Africa and they are not. That said, surely there must be action of some kind.
Certainly, if I was sitting in the Reebok board room today, I'm not sure I'd want my brand to be associated with such an individual as Henry. The incident, already known as 'Hand Gaul' is going to be replayed endlessly for years to come and Reebok will be at the heart of it. If I was them, I'd be sending Henry a letter curtailing his contract for 'gross misconduct'. Gillette might think about doing the same. How Henry can now be mentioned in the same breath as Federer and Woods is beyond me.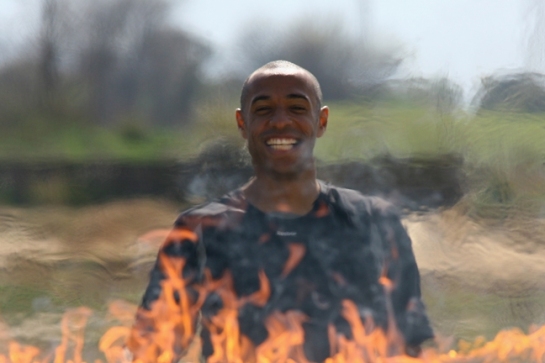 Henry is one of Reebok's biggest name ambassadors
Secondly, though Fifa and Uefa will be privately delighted that a major country like France has progressed at the expense of a lesser national like the ROI, they should ban Henry from taking part in the competition.
Any other message from either Reebok or the football authorities will be interpreted that cheats can prosper.
Thirdly, and here we go again, but how can it be that millions of viewers around the world can see that an offence has taken place and yet the referee and his assistant, who was perfectly positioned by the way, cannot. Where were Michel Platini's extra assistants? If he's so sure that they are the way forward, why were they not employed in such a crucial game as opposed to being used in worthless trials during the Europa League? And, if there was ever a more clear cut example that video technology is so desperately needed, I've yet to see it.
Henry's conning of the officials and football world at large can be best summed up in the words of Liam Brady. "A shameful night for football." Too true Liam, too true.