As we've mentioned before – Warrior have managed to establish themselves not only as a real player in the football boot marketplace in just twelve months, but also one of the most exciting to keep an eye on.
And while the release of a speed or lightweight football boot was almost an inevitability, ' we all knew that as this was Warrior, there would be innovations and originality to give the boot it's own identity.
So arrives the Warrior Superheat – designed to fit like a running shoe but perform like a boot; but does it work as well as either? We find out in our review.
Comfort & Fit: 3/5
Fit in the Warrior Superheat is tough to quantify and even harder to describe, but not in any bad way.
There is a lot of room in the boot, and this is accompanied by ample stretch in the midfoot thanks to the NeoWeb mesh. The forefoot, however, is firmer – constructed in the vein of a more traditional speed boot, with a TPU-enforced 'Nano Cradle' front end.
So, whilst the rear of the boot is soft and forgiving, the front is a little tougher to break in and will take a couple of training sessions to get some flex into. However, with that in mind, the nature of the material will always mean it's always going to have some 'bite' to it.
The wide, flat midfoot make these a great choice for wide or flat footed players who find speed boots uncomfortable, whilst players with narrow feet might find their touch a bit lost in that volumous toebox.
Touch & Feel: 3/5
Staying with that toe-end of the Warrior Superheat, the boot doesn't give that natural touch on the ball – but it doesn't necessarily want to.
The Organitouch finish gives a comparable level of friction to the Nike Speed Control Texture and adidas SprintWeb, whilst the firmer synthetic that it sits on top of isn't unnatural-feeling, and will be familiar to players who prefer a synthetic speed boot.
The soft, mesh-based midfoot is where the feel of the boot really comes to life, with the NanoCradle trapping some enough to make pockets of NeoWeb for great control, whilst the central lacing system pulls it nice and tight for assured instep passes and shots.
Appearance: 4/5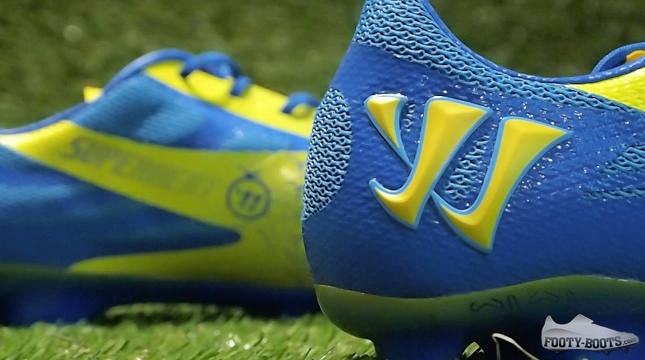 It's hard to make a boot look 'fast' – just ask adidas. But Warrior have really nailed it on the Superhear, with a low-profile aesthetic that implements the key technologies in a way that resonates with the boots message as a speed release.
The NanoCradle seems to slipstream onto the front of the boot, giving a techno-organic look that makes the technology at play effective and great-looking.
Durability: 5/5
As with everything we've seen from Warrior so far, the Superheats are incredibly solid with every part of the boot 'locked in' with some sort of feature that makes us think it's going to last.
The Neoweb mesh is a little tough to clean if it gets mud in there, but otherwise we can see these kicking around for a long time.
Performance: 4/5
The best thing about the Warrior Superheat we found during review was the shape.
A classic 'wedge' feeling with a low toebox is augmented by a super-thin sockliner and shallow 'War Deck' studs for a really low-profile ride.
Superheat's biggest strength is in how close it feels like your feet are to the ground for great traction and effortless sensation on the ball, getting under chips, dinks and crosses like few other boots.
Shooting has a feeling reminiscent of boots like the Nike Superfly or early F50's, with a great level of ping coming from that slightly stiffer material in the front of the upper.
However, both of those aspects of the boot are predestined to be divisive; as it's the same plate used on the Gambler, I know that some folks already won't go for the Superheat, and others prefer a softer material when striking the ball.
Price: 4/5
Once again, Warrior undercut that £150 average with a boot that's only £130.
Conclusion: 23/30
The Warrior Superheat is a very promising final entry to the Warrior line-up, bringing new technology and fresh ideas to the speed boot sector with a variety of innovations.
I'd happily recommend them to players looking for something very specific in a speed boot; a wide accommodating fit, low-profile feel on the ball, soft and comfortable heels.
Additionally, the Superheat gives a little more protection than other speed boots thanks to that harder-wearing toebox, so will be well suited to full-backs as much as it is pacey wingers and forwards.
Giveaway Time!
Also, thanks to Warrior, we've got a pair of Superheat Pros to give away to one lucky reader – to keep it simple, drop your size and country of residence into the comments section of the above YouTube video to enter – and be sure to use an account that we can message you on!