Warrior have revealed the Liverpool Home Shirt for the 2014-15 season in some style, taking to the heart of Liverpool itself to unveil the kit to a mass of competition winners and dedicated fans.
The new strip takes inspiration from the Roger Hunt MBE era in the 1960s where he was a' major factor in the Club's success, including promotion to the First Division and the team's' very-first FA Cup win.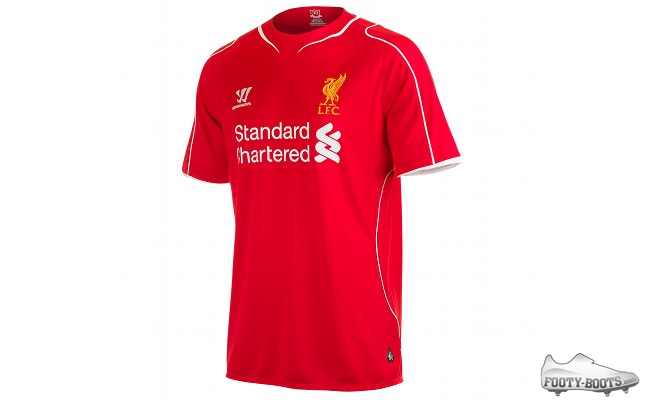 In particular, the rounded collar and thin white cuffs on the sleeves provide call-backs to Liverpool's kit history, alongside the gold crest that has been a staple of all three of Liverpools kits.
White piping on the arms and chest are complimented by a motif just below the collar, and are continued on the team's new home shorts for next season.
The 2014/15 home strip has been made using War-Tech, Warrior's signature apparel' technology system. Benefits of the War-Tech fabric include the shirt being highly breathable' as well as moisture-wicking, keeping players dry.
Other new features Warrior has incorporated include a geometric LFC jacquard weave and a' collar design that allows freedom of movement and comfort.
The 1960s was such a defining era for this club. Sir Roger Hunt, Ian St John, Ron Yeats – the
list of Liverpool FC legends that played under Shankly goes on and on. For the players to
wear a shirt that has taken inspiration from such a successful period for the club, can act
as a reminder that they can bring those glory years back to Liverpool Football ClubĹĄ said
Liverpool FC manager, Brendan Rodgers.
"I have a great sense of pride every time I pull on a Liverpool shirt. This shirt feels like a' Liverpool classic and helps me remember the greats, like Roger Hunt, who played before us" Liverpool FC captain Steven Gerrard.
The launch of the Liverpool Home Shirt for the 2014-15 season' was preceded by a three day teaser campaign, with a Warrior-branded shipping container showing up at the Liverpool One open-air shopping centre on Monday.
On the day of the grand reveal,' stars Jordan Henderson, Kolo Toure, Philippe Coutinho and Simon Mignolet stepped out of the container met by thousands of fans who had been awaiting the first glimpse of the new kit in public.
What are your thoughts on the new Liverpool Home Shirt for the 2014-15 season? Let us know in the comments, or drop us a rating on the shirt-0-meter.