Up next in the queue of big-boot-brands ready to showcase their new season colourways is Umbro, with their new paint job for Stealth Pro football boot!
The Umbro Stealth Pro is a football boot that has seen a big increase in it's stock since it's launch in the early spring. Despite being on the feet of noone in the post Christmas break, by the end of the season it had snuck it's way onto the feet of Premiership footballers such as Gael Clichy, David Bentley and Wilson Palacios.
And now, Umbro are ready to give it a new lease of life with some new colourways for the 2010-2011 season. The one we're showcasing here is the'  Black/White/Lime Stealth Pro.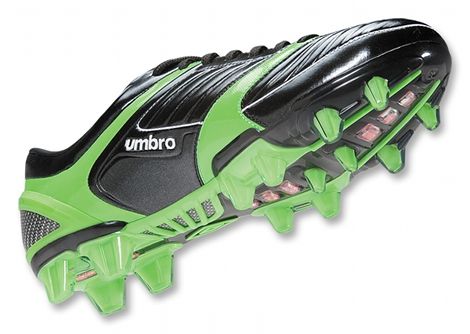 The zesty Lime really sets this Stealth Pro apart from the other two colourways that Umbro have coming up for the next season.
In fact, couple the Lime with the flash of Red running through the sole, and you can really see the influence of the Nike T90 Laser III running through the boot.
We're big fans of the direction that Umbro have gone in with the new Stealth Pro colourways, and we're hoping that that continue this hot-streak for the considerable future!
The Umbro Stealth Pro fared pretty well in our exclusive in-house test of the boot, with it's instant comfort and low-cut fit favourite features of our reviewer.
This sharp looking Umbro Stealth Pro is available to pre-order now, in both SG & FG versions, with the football boot anticipated to be released in Late July
However, the boot is only available to pre-order in the US, but we'll be updating you when it's available in the UK & The rest of the World!