They're just starting to hit the shelves now, the new speed/control football boot from Umbro – the Stealth Pro.
Umbro Stealth Pro – Silver / Black colourway
The Umbro brand is enjoying something of a resurgence of late. Boot-wise, they are aggressively marketing the Speciali, whilst Umbro received plenty of plaudits for the latest England kit, for both the design and the reveal.
So what can we expect from the Stealth Pro?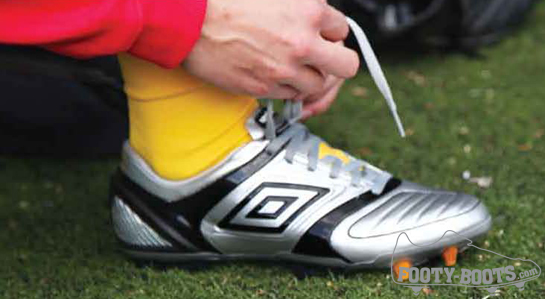 The World Cup colourway – Silver / Black / Orange – Expected May 2010
The Science of Speed
It's claimed by Umbro that the development off the new Stealth series has been the most accurate and expensive of a football boot ever!
In return Umbro reports that they have come up with a football boot which is faster than any other and one that has delivered better testing results (both laboratory and by Premier League players) than any of it's predecessors.
These impressive results centre around protection, shock absorption, cushioning, traction plus the correct and best feel and touch!
By the looks of things, Umbro have created a hybrid of the Speed and Control Categories – but with an added focus on protection – get your head around that combination!
Umbro Stealth Pro – Red / Navy colourway
Technical Specs
The Stealth Pro's upper does have some very interesting tech: Microfibre air pockets are inside the synthetic leather upper which, as you can imagine, makes the boot lighter.
The Stealth Pro also features a carbon fibre shank and a hefty external heel counter.
Support- external heel foxing+ carbon protection.
Pro Fit- memory foam in tongue body moulds to top of foot for snug fit and hard tackle protection.
1. Structural support.
2. Chassis holds the foot in the best possible biomechanical position.
3. Carbon shank for biomechanical midfoot support.
4. Cosmetic film graphic.
5. An extra layer of cushioning to protect the delicate players foot.
The Umbro Stealth Pro in it's World Cup Cup colourway of Silver / Black / Orange will be arriving soon.
What do you make of the Umbro Stealth Pro? Add your opinion here …
Receive exclusive content and the latest football boot news. Just click onto Facebook or Twitter.com/Footy_Boots to join the leading community for footballers who care for what they wear!