John Terry debuted the Umbro Speciali football boots when he captained England to a 2-2 draw against the Netherlands in August 2009.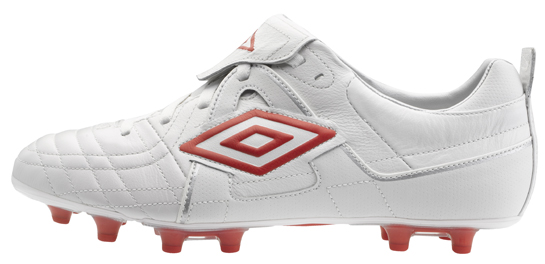 There's no getting away from the Umbro Speciali range right now. Umbro have been going to town in marketing this football boot and they have been doing so in style.
Their latest offering in the range is this plain, but classy, white red version of the Speciali, which made its debut on the feet of England skipper John Terry against Holland.
Whilst Terry did his best to hold the England defence together despite a series of schoolboy mistakes, he will have felt assured that his appearance in these football boots was top notch.
John Terry's customised Speciali White Red.
John Terry's customised Umbro Speciali football boots featured the names of his children (Georgie & John), the match insignia and of course the St. George's Cross.
John Terry commented:
The new Speciali is the best football boot Umbro has ever built. I've been testing it out and it's not only a stylish and functional boot, but also gives the perfect fit and comfort I need to play at this level.
This football boot features a specially designed sole-plate for Terry, different than the SG model available on general sale. You can also expect to see Arsenal's GÄ'«l Clichy wearing this colourway for the Gunners this season in the Premier League.
Umbro Speciali Highlights' 
The football boot's premium soft leather creates outstanding fit
The A-Frame design has become a central functional component for the new Speciali, cradling the mid-foot and securing the heel
The high density memory foam in the tongue and collar maintains its shape
There are fast flex grooves in the outsole for greater flexibility
It's the lightest Speciali Umbro have ever made
The Umbro Speciali red white will be available in the UK shops from September.
Learn about this football boot by reading the Speciali Review
Image attribution: umbrofootball