If you are a fan of Umbro branded players, then today should be right up your street. Headed by John Terry and Michael Owen, some very special Speciali's will be making their on pitch debuts.
To mark the latest White / Black / Gold colourway, Owen and Terry have both chosen a unique design for the sole of their new Umbro Speciali's and will be wearing them this afternoon.
Their unique boots are a result of the Umbro 'Design your own Speciali' competition which saw over 6,000 entries from the public in an attempt to have their sole design appear on Premier League players' feet.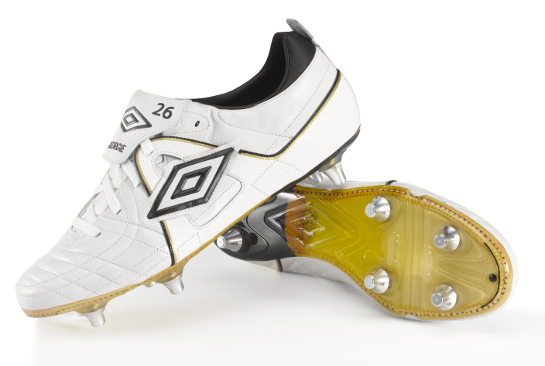 The England captain has chosen a design called 'Tailored' with the phrase 'Tailored by England' on the outsole and he'll be wearing them in the lunchtime match against Preston North End in the FA Cup.
In the same game, Deco will wear his 'Believe' Speciali's that we highlighted on Footy Boots earlier this week.
Meanwhile, Owen has gone for a design entitled 'Eat My Goooaaal' and will be wearing them for the first time against Hull City in the Premier League game at Old Trafford.
Speaking about his new boots, the former England hitman said:
I chose the 'Eat My Goooaaal' design because I thought it fitted my personality on the field as a goal poacher and thought it was a really creative and cool look.

I have been playing in the new Umbro Speciali this season and I feel its incredible comfort, control and accuracy really benefits my game.
Already this season we've seen Twitter user extraordinaire Darren Bent in his 'Dynamite' Speciali's, the winning design of which was voted for by fellow football enthusiasts and social networkers. Bent turns out for Sunderland today away to Portsmouth in the FA Cup.
The latest Umbro Speciali goes on retail sale on 8th February priced at £79.99. Additionally, a limited number of the Terry and Owen boots will be available priced at £99.99.