Yes, it's back. Born in 1992, Umbro have released the new, modern Speciali Eternal and it looks fabulous!
To the delight of the traditional boot fans out there, Manchester based Umbro have launched a brand new Speciali with all the ingredients traditionalists love;
Soft Leather – check
Fold Over Tongue – check
Black Colourway – check
As if that wasn't enough, the black version (black/white/clematis blue) of the Speciali 'Eternal' will become a permanent fixture in Umbro's boot collection. 
A quick glimpse at the boot and you know instantly that it is a Speciali, however the Speciali Eternal isn't just a rehash of the original, it has been re-engineered to meet the more demanding performance requirements of the modern game.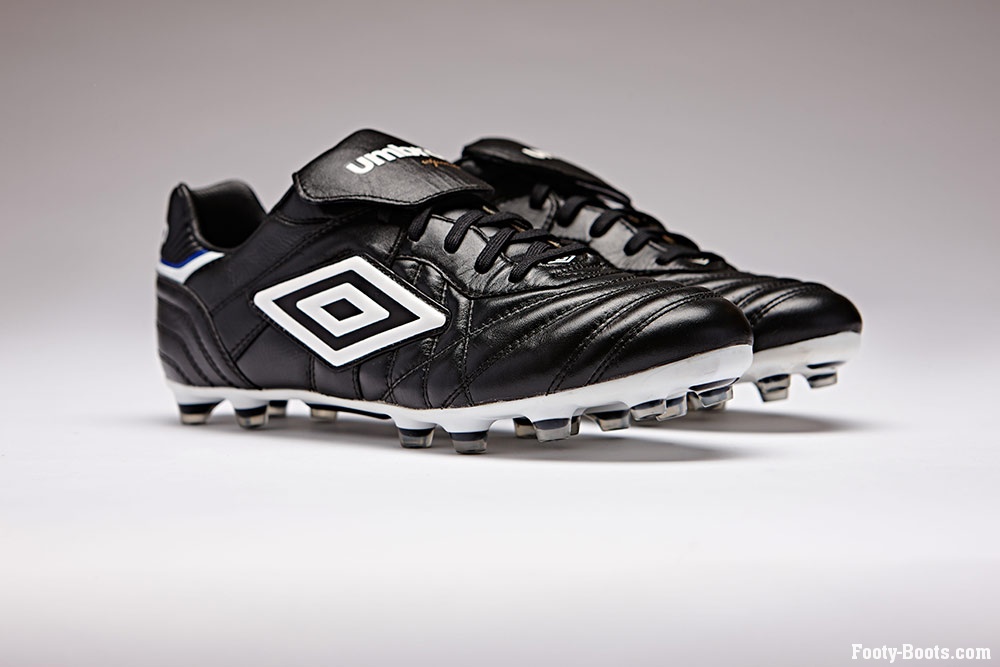 A key feature of the Speciali Eternal is the lightweight soft leather upper, offering supreme comfort and durability which the original is renowned for.
Despite ultra light boots being the trend, Umbro has stayed true to the original Speciali and made comfort king. That's not to say it's heavy, particularly not for a quality leather boot.
Tech Spec
Umbro's A-Frame overlay offers exceptional support and stability, while the iconic fold-over tongue also returns but with a touch fastening to keep it in place.
A dipped Achilles heel tab reduces foot fatigue and pressure, and the pre-moulded sock liner gives enhanced fit and support.
New 'Wishbone' technology allows for controlled support throughout the full length of the soleplate providing increased rigidity in the mid-foot and controlled flexion in the forefoot.
A matt finish on the leather outsole completes the classy look of the Speciali Eternal which will be available in HG and SG versions.
Finally, take a look at the price tag – £90. It certainly isn't cheap, but when you compare the Speciali Eternal price to other football boots, it comes in very reasonably indeed.
---
Player: Pepe
Colourways:
Black / White / Clematis Blue
White / Black / Clematis Blue
First Wear: Pepe will give the Speciali Eternal its on field debut on 18th July 2015 in the pre-season friendly against AS Roma in Melbourne, Australia.
Availability: On sale from 1st July 2015
Sizes: 6-12
Retail Price: £90
---
Contribute to this story….
A classy traditional boot re-engineered for today's game.
Are you going to be lacing up in the Speciali Eternal?
We want to hear your view in the comments below.