Umbro Geometra

Taking on the adidas adiPower Predator and Nike CTR360 II in the new control football boots category might not be the smartest move ever, but Umbro are going to give it a go with the mathematically-named Umbro Geometra.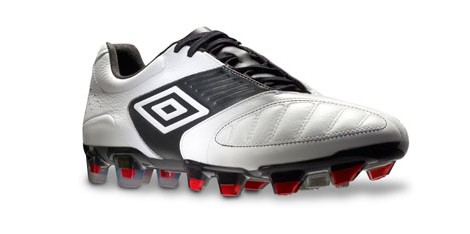 Umbro's reputation has taken a hit from the untouchable status they had after the Nike takeover, but the Stealth Pro II and Speciali R have seen the brand snap back into a bit of form and we hope will soon be making great football boots and shirts.
Their latest effort is this, the Umbro Geometra, and we're strangely excited by it!
A K-Leather upper is the first good step for the Umbro Geometra, surprisingly the only Control boot to boast one, using the same leather as the legendary Speciali is a great start for a pair of football boots focused on touch and feel.
Building on that solid foundation is a pair of technological advances that Umbro say will change the way we look at control on our football boots.
First is the ECS – Energy Control System -'  that sits on the instep on the Umbro Geometra. The main component is strips of high-density foam, which is designed to reduce unwanted ball-bounce (quiet at the back) and excess energy is absorbed by the foam to bring the ball under your spell quicker.
Next up is the swerve coating on the toe-area of the Umbro Geometra, which gives a sweet area similar to older models of the Predator to receive and distribute the ball from.
Finally, an off-centre lacing system gives players a snug fit, maximising the effectiveness of these high-tech football boots.
Umbro Geometra Launch
The Umbro Geometra will hit retail in August, with an RRP of £130.
The lead launch colourway will be White/Black/High-Risk Red and a cheaper sibling model will be available, called the Geometra Premier.
The following players will wear the Umbro Geometra:
-'  Jordan Henderson – Sunderland and England
– Joe Hart – Manchester City and England
-'  Diego Capel – Sevilla
-'  Benoit Tremoulinas – Bordeaux and France
-'  Deco – Fluminese and Portugal
-'  Phil Jagielka – Everton and England
-'  Jonas Gutierrez – Newcastle United and Argentina
-'  Nedum Onuoha -'  Sunderland
– Luke Williams – Middlesbrough and England Under-17s
– Michael Mancienne – Hamburg SV and England U21
-'  Lucas Digne – Lille
Umbro Geometra Pro Specifications
K-leather construction
ECS Control System on instep
Swerve Zone on Toes
Side offset lacing system
Internal Heel Counter
Pebax Outsole
£119.99/$169.99
Footy-Boots.com's Kyle says:
"These look like yet another solid boot from Umbro, but their success will hinge on two things; whether they're a little too similar to the Stealth Pro II AND whether they can get a big name player or two to wear 'em!"
What're your first thoughts on the Umbro Geometra? Let us know in the comments below!
UMBRO GEOMETRA, 9.0 out of 10 based on 129 ratings