After it's official unveiling earlier today – Umbro have announced that the new Umbro Geometra will get it's debut on the feet of young stars of both sides in England and Spain's Under-21's match on Sunday.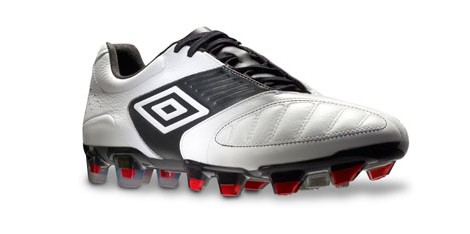 The match-up is an appetite-whetting one, as England's much-touted young stars take on a Spain team who have grown up on the senior side's scintillating brand of quick-passing football.
And as if seeing the likes of Jack Rodwell, Jordan Henderson, Thiago Alcantara and Bojan Krkic in action in one of the biggest tournaments of the summer, Umbro have announced – via the ever-excellent Umbro Blog – that this game will be the official on-pitch debut of the new Umbro Geometra football boots.
Designed for  the football with vision, style and distribution, there's no doubt that the Umbro Geometra is a great alternative for those looking for something a little different in the Control category – and at £90 they're great for a player after a cheaper alternative.
Far from being 'football boots on a budget', though, the Umbro Geometra will be on the feet of new Liverpool signing Jordan Henderson, England Captain Michael Mancienne and Spanish winger Diego Capel (currently the most capped player in the Spain U21 side) – a selection of world-class players, we're sure you'll agree!
Will any of these players be the first to score a competitive goal in Umbro's new football boots?
You'll have to watch on Sunday to find out!