Football Boot brand Umbro has encountered complications over the involvement of coach Fabio Capello in the launch of the new England Away football kit.

The sensitivities surrounding Umbro's launch of the Red Away Kit two days before Capello's first game against Switzerland on February 6*, come hot on the heels of the news that the Italian is currently being investigated over tax-evasion.
The football boot brand wants as much involvement as possible from Capello in their unveiling of the red strip, likely to be at England's Grove Hotel base in Hertfordshire, especially given the super hard sell required following the failure to qualify for Euro 2008.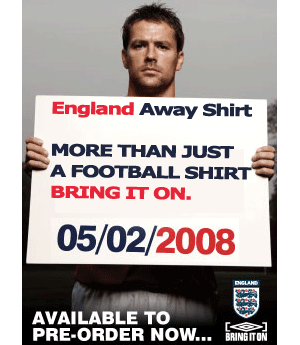 However, the FA were aware of wanting to protect Capello's image as a suit-wearing manager and not committing too much of his time to a commercial issue on his first full day with the England squad. He also has a personal contract with Italian football boot brand Diadora, which may potentially complicate matters.
Umbro and the FA both sought to play down the issue by putting on a united front yesterday. The FA said "everything was fine with all their sponsors" and that Capello would take part in the launch and be pictured with the football shirt.

Click Here to order the new England Away Kit now!
*Please note Umbro have delayed the launch of the new England Kit to the 12th March