Following a successful release of the new Umbro Geometra yesterday, it seems that Umbro have a couple more surprises waiting up their sleeve as two England Under-21's stars gave us a look at some unreleased football boots colourways.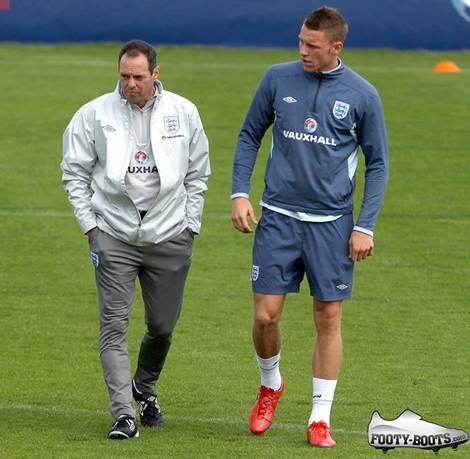 Hot-property Connor Wickham turned out to training in an unseen pair of cherry Red Umbro GT Pros as the Young Lions look to build upon their impressive momentum from a draw with Spain.
This Red-hot colourway is certainly a sharp contrast for Umbro's lightest football boots against the Icey-Cool Cyan/White colourway that we were graced with towards the end of last season – though we'd have to guess that Umbro have this design in mind for any time the Ipswich youngster has to wear the England Away Kit!
Pacey Spurs wide-man Kyle Walker chose a pair of Umbro GT Pro's from elsewhere in the spectrum, though, as he debuted an all-yellow pair of football boots against Spain on Sunday.
Walker will be looking to impress at this summer's tournament, after being shipped out on loan to no less than three clubs since joining Spurs, the young Yorkshireman knows that a good tournament this summer could cement a place in Redknapp's starting XI.
And let's face it, if you're out to make an impression, banana-yellow football boots aren't a bad way to get spotted!
Elsewhere in the England camp, Jordan Henderson spent his second training session in the new Umbro Geometra, joking with fellow midfielder Jack Rodwell. Both players have made the switch to their sponsor's 'Control' football boots in the run up to Denmark.
Having played all the last season in Heritage boots (adiPure and Speciali), it will be interesting to see how Henderson and Rodwell play in their new control-focused cleats.
Speaking of 'Control' football boots, Nike have the original boot in that category in the form of the CTR360, which has a new colourway still awaiting official release.
First spotted on the Brazilian National Team over 2 weeks ago here on Footy-Boots.com, Chelsea youngster Ryan Bertrand gave the White/Red/Navy CTR360 II a competitive debut in Sunday's clash with Spain.
What do you think of Umbro's 'Primary Coloured' approach to the Umbro GT Pro?
Let us know in the comments!