Topper is a football boot brand that hails from South America. It's perhaps best known worldwide as the sponsor of the Brazilian national team that played in the World Cup in 1982 – think SÄ'Ĺ'crates, Zico, FalcĂŁo and Junior.
Nowadays Topper is the official sponsor of the six times world futsal champions Brazil, a team where every player wears the same Topper futsal shoe. But we are here to tell you about their football boot, not their futsal credentials.
Topper Football Boots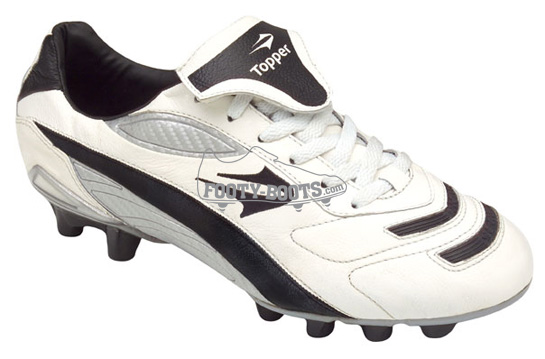 The top of the range football boot from Topper in 2009 is the One Professional, developed by the South American brand for both professional and serious amateur players.
It's made from an impermeable K Leather that moulds to your foot, features a high degree of elasticity, and should be very comfortable.
The outsole features a moulded stud, designed to help your traction and balance on the most irregular of surfaces, no doubt typical in Brazil.
A Dynatech shock absorbing module runs along the sole and into the heel, which again assists your balance on the turf whilst protecting the heel area.
The One Professional football boot was developed by the players; Jorge Wagner (Sao Paulo and former Sevilla), Ibison (Flamengo) and Marcos (Palmeiras) the former world cup winning goalkeeper with Brazil in 2002.
To follow in the steps of this pro line football boot, Topper will be launching a polyurethane model, know simply as "The One".
Price: Approx. £90
Availability: Now, 2009
Colours: White / Black and Yellow / Black
Weight: 300g