Many people have had a go at football boots recently for their lucrative price tags and 'gimmicky' sales tactics – but is it only our beloved form of footwear that's guilty of a little excess? Read on as we count down the top 5 most expensive shinnies that you can buy today!
5. Umbro Pro Shinguard – £38.99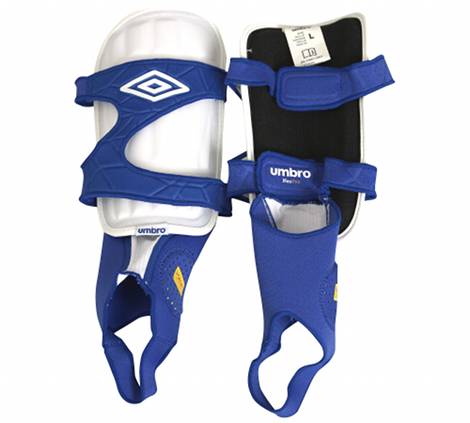 The solid-looking Umbro Pro Shinpads can be found for a little under £40, and come equipped with full Poron moisture management capabilities, to keep you dry and comfortable while you play.
Not only that, in addition to the usual Pads and Ankle guards, these shinguards also come with an asymmetrical velcro strapping system to keep them in place whilst playing – which'll save you money in the long run on sock-taping them to your pegs!
4. Nike Total 90 EXP Shinguards – £39.99

Already into pricey territory at a hair's breadth under £40, Nike can at least claim that you get a lot in the initial package with the T90 EXP 'guards!
Equipped with shields, ankle guards, calf protectors and even some sleeves to keep everything in the right place, you can even boil these shinnies in water and mould them to your legs!
3.'  Nike Mercurial Vapor Blade Shinguards – £59.99
These solid shinnies are made of aircraft-grade Carbon Fibre, which is renowned for being incredibly strong and tensile.
Nike also claim the dual-layer Poron foam instantly distributes any impact energy across the guard, taking the sting out of any nasty kicks and collisions.
2. Lotto SH500 – £71.99
We've looked long and hard at these Lotto shinpads specifications to find out what makes them worth so much – and we can't find anything!
Lotto boast that the SH500 feature a Polypropolene front shell, lightweight EVA backing foam and ventilation holes for comfort – which all sounds awesome, but we'd think twice before splashing over £70 on 'em!
1. adidas F50 adiZero Carbon Fibre Shinguards – £79.99

The newly released adidas F50 adiZero shinpads break the bank stopping just shy of the £80 mark.
Made from Carbon Fibre, these supersonic-shinnies even give players the choice of removing the central core (that sits behind the main 'lump' of the pad) to reduce the pads weight to a staggering 62g per pad!
Adidas say that this is the lightest and most innovative shinpad ever made – but – if that's the case, adidas, why'd you have to make the sleeve look like the world's ugliest golf sock!?
Honourable mentions
These are shinpads that would have made the list, but sadly are no longer in production!
Diadora Totti Mondiali Shinpads – these monster pads blended F1 level Carbon Fibre, Kevlar and Titanium to give you more protection that a presidential limo! The cost? £149.99, to you sir!
Nike 10R Promo Shinpads – Limited to just 1600 pairs worldwide, these £60 shinnies were the exact same as the ones worn by Ronaldinho, and came individually numbered and packaged.
And so ends our countdown! Tell us – what's protecting your legs at the moment? Let us know in the comments!