Artificial ground surfaces: a common dilemma in today's modern world of football. Some people hate it, some people love it. Whatever your opinion, we've all had to play on them.
For us, the question is whether you have the right boots for the job or not. So I am going to look over various AG friendly cleats to give you all an idea of what I think is ideal and what is not.
Before I begin listing some boots, I'd like to give a brief word to those who aren't familiar with this topic.
First off, Artificial Surfaces are made up of any non-natural grass field. Whether you call it a turf field or a carpet-like field, anything non-natural and man made with plastics or rubbers is to be considered artificial grass.
Secondly, I'd like everyone to note that Firm Ground cleats are not made for these surfaces. Firm Ground boots are designed for firm & dry natural grass fields. However many players (including myself) have used FG boots on artificial grounds. For those who don't already know, the majority of brands offer their top-end boots in AG sole plates now, however I am keeping this article strictly for FG cleats.
Lastly, the following boots are not listed in rank, meaning one is not better than the other. The following 5 cleats are simply the better options for use on Artificial Grass; I've chosen one or two from each brand to keep it concise and also refrained from choosing older cleats so that people can buy these cleats named, in local or online stores.
Enough talk, let's start!
Adidas Ace 15.1 FG/AG
Starting off my list is the first generation of the Adidas Ace; those who follow my posts will know I stand by these as some of the best all-round boots ever. For details about what these cleats offer, check out my review and testing of them here: ACE review >>
In terms of using these on Artificial Surfaces, there's something to be said. Now for those who don't know, Adidas specifically designed their first generation X and Ace for FG and AG surfaces. Truth be told, I never found the X 15.1, or the new 16.1 Models to have true hybrid sole plates like the Ace 15.1 had. Don't get me wrong, the studs on the present 16.1 Adidas models are a good length and shape for AG surfaces, however I don't feel them to be FG/AG like Adidas markets them to be. That being said, a mixed combination of average length studs gives the Ace 15.1 a low profile feel which is perfect on AG, and the synthetic upper provides solid durability for the most part.
Overall amazing boot choice and a great one for AG surfaces. You can now pick them up at great prices too!
Nike Magista Opus FG
Now I know a few of you boot nerds will judge me on this, but I'm choosing these boots from personal experiences and feedback from clients/players I've spoken with. Personally, I did want to put the Hypervenom Phinish II in my list, but since Nike has slapped the Original NikeSkin upper back on, the durability isn't as high anymore. Same goes for the Magista Obra, the soleplate is identical to that of the Opus, however the upper is not, making the Opus the better option.
Nike recently updated their Magista silo, so when I say Opus I'm talking about the first generation Opus I. The newer Opus II is still a good option I must say. However I do find the studs to be longer and thinner, which isn't as good on AG when you compare them to the first generation's shorter conical studs.
Puma EvoPower 1.3 FG
Puma as a brand hasn't really put much emphasis on their AG sole plates, for the longest time I would avoid using any of my Puma cleats on AG, for the simple reason that they wouldn't hold up well.
Now, Puma has stepped up their their game and rolled out some fighting options. Offering their cleats in AG plates and also fitting their FG boots with extra durability.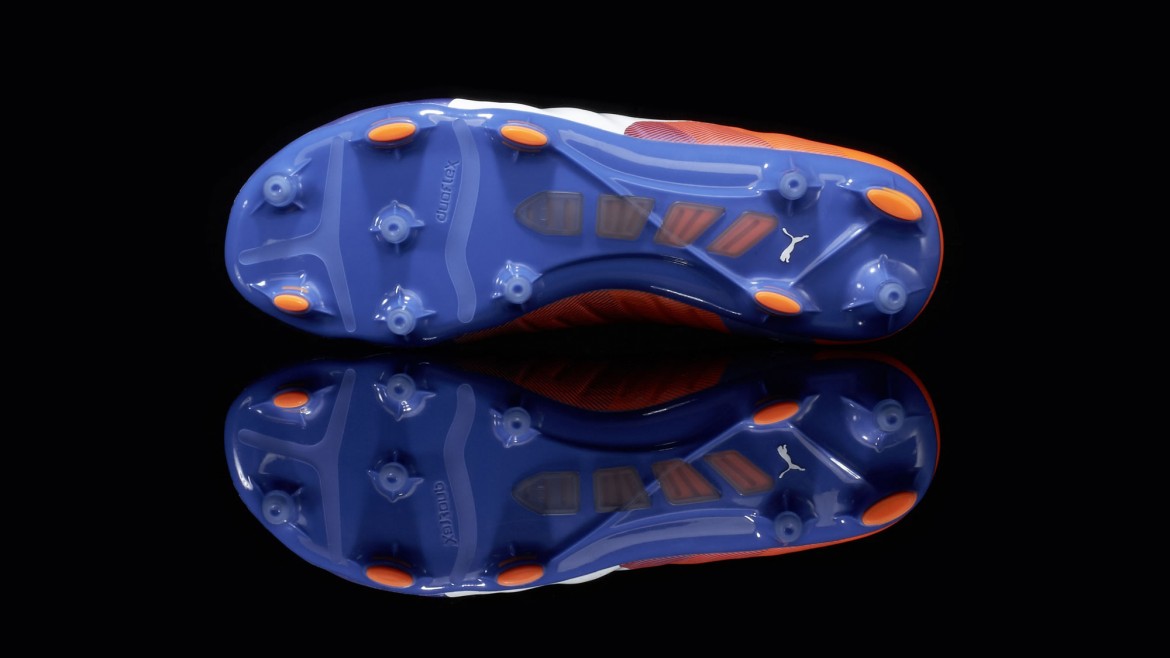 Once again I probably will get some heat for this, but from the present Puma lineup I have to say the EvoPower 1.3 is the best option for AG surfaces. The EvoTouch loses out simply from the soft kangaroo upper which would separate way too quickly if used on AG.
The newest EvoPower combines Puma's iconic bladed studs with some new conical studs, giving it a very hybrid feel which isn't too bad for AG. Not to mention the synthetic upper and new lip added to the forefoot to avoid separation.
New Balance Visaro Pro FG
The new player on the block once again is in my list of recommendations. I'm still in awe with how these boots perform and I simply had to include them in this list. For my review on these beauties, click here: Visaro review >>
Throughout my review of the Visaro Pro, I purposely spent no time on AG surfaces because they are a firm ground pair of boots. However, I did spend some time afterwards on AG and also got feedback from a friend of mine who constantly uses them for his 5-a-side games on AG.
The build of the shoes are superb so durability was not a concern, the short and low profile studs are what offer a good feel on turf fields. Much like the past Sprintframe cleats from Adidas, the triangle shaped studs perform well and although it might look like you'd have separation issues, the construction once again is well done for the synthetic Visaros' – it's a thumbs up for AG.
Adidas Copa Mundial
There is simply no going wrong with these legendary boots. Once again before I get heat, hear me out. I did say I would only mention newer cleats, however these are always available and always in production by Adidas. Also, I do know the Mundial Teams' exist, but I'm only mentioning FG cleats. Finally, I did already put an Adidas boot in the list, but these classics deserve a spot in anyone's list.
There's no other way to put it, I've seen countless pairs of boots returned to stores because of defects happening when playing on AG surfaces. The one boot that I've never seen come back, is a pair of Copa Mundials.
If you're looking for a pair of FG cleats that you need for grass just as often as you need them for Turf, The Copa performs. The only issues I've seen or heard about the boots are after a minimum of a year of constant use on turf, and then the occasional issue about laces being too long and braking.
The soleplate is simple and all conical, and it's even bolted to the upper like don't even worry about separation, there are bolts holding your sole and upper together. Overall this dinosaur of a cleat is still a top contender in my opinion and I personally still have my pair that endured 4 years of usage on grass and turf. Top stuff after years and years.
So there you have it, 5 firm ground cleats I suggest for the people out there looking to use their FG boots on AG surfaces. Once again, this is a personal opinion article all based on personal experience or feedback from others.