The new season is here, and for many, that means a return to training. For those lucky enough, this means time on Grass and Astroturf – but others will be heading indoors for their preparations.
So, how do you get the same level of performance out of your indoors as you do your football boots? Look at the best indoor shoes on the market, of course!
Here's our list of the best indoor shoes available at the moment!
10. Umbro Aurora Indoor Cup
A modern take on the Vulcanised rubber outsole is the solid foundation this shoe is built from, and a synthetic upper gives them heaps of comfort and keeps them light and flexible to boot.
It's also worth mentioning this is the cheapest of the indoor football shoes in our list, making them perfect for someone new to indoor soccer, or doesn't want to splash huge amounts on something they won't wear too often.
9. Joma Top Flex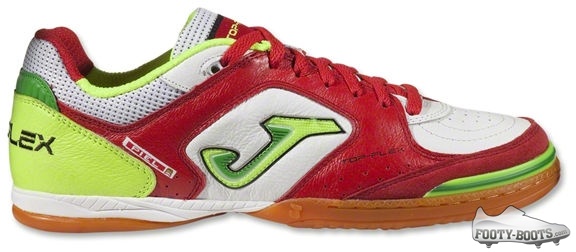 Joma are a company that prides itself on not only using the best leather, but using it effectively – and that's something that definitely shows on the Top Flex.
A nifty, athletic-looking shoe, Joma have used super-soft calf leather across the upper and suede on the toe-cap for added durability, coupled with their tried-and-tested Top Flex outsole.
8. adidas Mundial Goal indoor
The Copa Mundial with an indoor-specific sole, what's not to love?
K-Leather upper teams up with a moulded gum-rubber outsole to offer the Copa fans who don't want to leave their football boots behind when they leave the pitch the perfect solution. The only downside is the price, with the Mundial Goal the joint-second most expensive shoe on this list.
7. Lotto Futsal Pro IV
With more than a hint of Fuerzapura about it's shape, there's certainly no doubt that Lotto's recent football boots-design prowess has seeped into this gorgeous shoe.
The upper focuses on offering leather where it's needed most – the forefoot – whilst coating the rest of the boot in synthetic to improve heat management and reduce weight. Sounds like a winning combination to us!
' 6. Munich Gresca
Crafted lovingly by 50 artisan shoemakers in Barcelona, the Gresca is the choice of shoe for the futsal player with discerning taste.
A distinctive feature of the Munich Gresca is the best toe protection available in a futsal shoe. This feature is instrumental for the quick toe-poke shot practiced by top futsal and street soccer stars and cannot be found on the many of the larger brands"indoor soccer shoes.
5. Nike Lunar Gato II
The Gato's centrally-laced design, and thick insole offer a very trainer-esque feel and ride thanks to the advanced LunarLon cushioning in the sole. This casual exterior, however, belies a shoe that's packed with enough technology and features to make Skynet jealous.
4. adidas FreeFootball Top Sala' 
adidas' top indoor soccer shoe is an impressive marriage of bleeding-edge tech and the undeniable classics.
One one hand, a lightweight, Hybridtouch upper with serves as the frame for a breathable mesh nylon and the toe area is coated in abrasion resistant adiTUFF are adidas' latest sala innovations; whilst a non-marking gum sole and EVA foam padding have been essential to the shoes of the small-sided game for years!
3. Nike Elastico Finale
Appropriately flashy and packed full of performance technology, the Elastico's are definitely the supercar of the indoor soccer shoe market.
A NikeSkin upper and split-toe outsole and are features you won't find on any other indoor shoe, but all this innovation comes at a price – as the most expensive indoor football shoe on this list, buying a pair is not a decision to be made lightly.
2. Puma evoSPEED 1.2 Sala
Replacing the minimalist Speed Star with this more technical indoor shoe was certainly a bold move for Puma, but these gorgeous indoor shoes make the trade-off worth it.
Despite adding in a new, more natural feeling upper and abrasion resistant zones on the shoes hot-spots, Puma have also managed to strip the shoe back to just 238g.
Far from being a skeletal shoe though, Puma's iDCell cushioning board and Arc-Tech sole make them as super-comfy as they are light.
1. Diadora Maracana IN
Another indoor' soccer shoe' that takes it's cues from a classic pair of' football boots' are the Diadora Maracana IN.
A K-Leather upper offers great touch on the ball, and there's definitely no flaws with the timeless Maracana design, but they are on the hefty side; both in terms of weight and price.
That's all for our Top 10 indoor football shoes!
Have you any that you'd add to the list? Any you might have placed differently?
Let us know in the comments!