It's been a little while since we've heard anything new about the upcoming Tiempo Legend IV, but it seems that Nike are steadily preparing for the release of these new football boots by having one of the World's top Tiempo wearers, Gerard Pique, test them in a training session.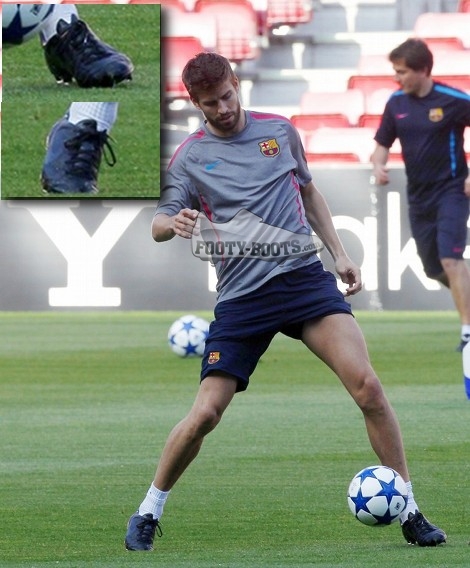 As you can see, the Barcelona defender has taken the liberty of blacking out his new football boots, but that doesn't mean we can't glean some interesting details from these photos.
First up is the distinctive heel striping, which is very similar to what we saw on the feet of FC Krasnodar's Azim Fatullayev when we exclusively spotted them in testing back in February.
From the way these stripe along the heels looks, it certainly seems as though the Tiempo Legend IV has a much smaller heel counter than it's predecessor, and may, in fact, be internal like other classic football boots such as the adiPure IV and Mizuno Morelia.
Another interesting feature is the lack of a tongue on this model. As we mentioned before, this version of the Tiempo Legend seems to have done away with the fold-over tongue that has characterised the Tiempo legend over the last three generations.
Instead, we have a single-layer tongue, with symmetrical tabs cut out out of the top. This design is remarkably similar to the design of the tongue used on the current Superfly III.
This design choice serves only to further the rumours that the new Tiempo Legend IV will be the lightest entry ever into Nike's oldest football boots silo – and will add fuel to the fire that the new Tiempo may well incorporate some other Superfly technology…
Two smaller details that may go unnoticed are the stitching on the toe and the studs on these shots of the Tiempo Legend IV. The stitching across the front of the cleat suggests that these football boots will be retaining the same familiar 'lateral' toe stitching as the Tiempo Legend III; which is exceptionally interesting as some 'leaked' images suggested the Tiempo Legend IV would incorporate a 'quilted' style of stitching like the old Nike Tiempo Ronaldinho Dois.
As for the studs, the telling glimmer of light under Pique's left foot will be familiar to anyone who owns a pair of the excellent Nike Tiempo Legend III Elite. This leads us to believe the Tiempo Legend IV may well use the same soleplate as the current Elite, or at the very least, the same studs.
What do you think the Tiempo Legend IV will bring to the table?
Are you happy with the way Nike's latest are shaping up?
Let us know in the comments!
Thanks again to DDChile for the spot!