Reebok has revealed the first in a series of three new advertisements entitled 'Play Responsibly' to celebrate their most powerful ever football boot – the Reebok Valde.'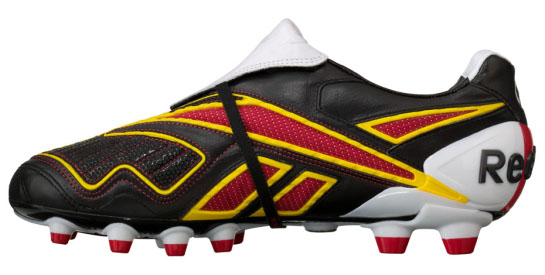 In the ads, Barcelona and France striker Thierry Henry is sensationally shown destroying everything from cars to buildings with a series of explosive strikes!
The dramatic ads, shot in Spain, show France's all-time greatest goal scorer filmed using cutting-edge Hollywood special effects to vividly bring to life the power of the Valde boot.
Watch the video in the Footy Boots Video section.
Henry obviously had a laugh in front of the camera's saying:
I had a great time making the ad – I've done many things with a football on the pitch but this is the first time I've used one to explode cars – a bit like being on the set of an action film!'  It was a really fun, and an interesting way of showing the real benefits of this Power Unit boot technology.
Joining him on the set were the Reebok Ambassadors, a team of young amateur footballers who won Reebok Valde boot deals via a European-wide competition. They were given exclusive behind-the-scenes access to the Valde shoot, as well as being officially presented with their first pair of Reebok Valde boots by Thierry Henry.
Roy Gardner, VP Marketing Reebok Europe said:
The Valde is the most powerful boot Reebok has ever made, so we're urging players to play responsibly when wearing them!
You can order the Reebok Valde Pro football boot by clicking here