Thierry Henry re-wrote his place in Arsenal's history last night as he stepped off the substitutes bench wearing the new Puma King SL to score what would be the game's deciding goal.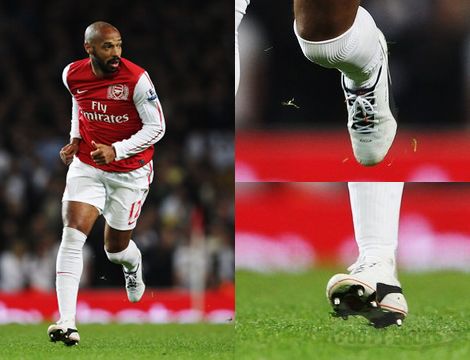 The Frenchman completed his emotional return to the Emirates with a well-taken finish, stroking the ball home at Leeds keeper Andy Lonergan's far post – notching up Henry's 227th career goal for the North London club.
Billed as 'The Return of the King' by anyone who grew up with Henry's ebullient presence on a Premier League pitch, all eyes were on the World Cup winner last night – an apt moment, then, for Puma to pull back the veil on the latest pair of ground-breaking football boots: the Puma King SL.
Having previously been worn in blacked-out form by team-mate Mikel Arteta, Puma saw the opportunity to be part of history by having both Arsenal players wearing the White / Navy / Team Orange version of their upcoming football boots – a move that will no doubt be greeted by much high-fiving and back-slapping at Puma's offices this morning.
A lightweight version of the Puma King Finale, the new Puma King SL is set to take everything we already know and love about the Puma King and make it – you guessed it – lighter.
As visible on Thierry Henry's boots last night, the Puma King SL features a uniquely-shaped tongue and internal heel counter to drop weight, as well as a flatter footbed for improved traction and feel.
We'll have more to show you from the Puma King SL when it drops at the end of the month!
Until then, we'll just have to speculate over these pictures of Henry wearing the latest Puma football boots!
How much do you think they'll weigh?
Let us know in the comments!