The England Football team is spearheading a drive to raise awareness of bowel cancer, the second most common cause of cancer deaths in the UK, killing 44 people each day.
The campaign 'There is Moore to know' will feature a series of striking and powerful images with stars of the England football team, Theo Walcott, Rio Ferdinand, Michael Carrick, David James, Micah Richards and Shaun Wright Phillips for the Bobby Moore Fund for Cancer Research UK.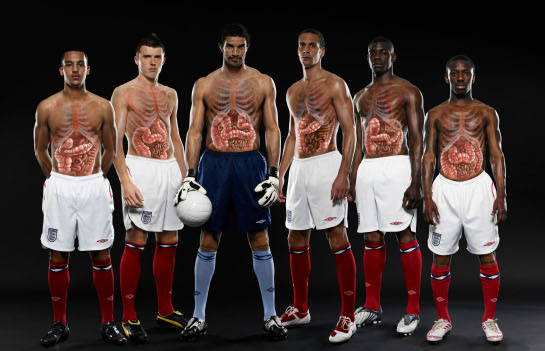 Image by: John Davis / Team England / Idols
The Bobby Moore Fund for Cancer Research UK aims to raise awareness of the shocking statistics associated with the disease that killed the former England captain, Bobby Moore aged just 51.'  The Fund endeavors to make more people aware of the symptoms of the disease and how to best reduce their risk of bowel cancer.
Rio Ferdinand said:
My England team-mates and I were shocked to find out that bowel cancer kills 44 people every day in the UK and yet Stephanie Moore told us that eight out ten cases can be successfully treated if detected early enough.
The players chose to work with the Bobby Moore Fund for Cancer Research UK following their decision, in 2007, to set up their own charitable trust – the Team England Footballers Charity.'  Their ambition is to raise a minimum of £1 million for chosen charity partners ahead of the 2010 World Cup.'  Each member of the squad has signed up to donate both their international match fees and their time to support chosen charity partners to raise awareness of particular issues and make a difference to the lives of others.
Another England player to comment on the project was flying winger Theo Walcott who said:
Bobby was one of the greatest footballers of all time; to die at 51 is too young. It is important to us that we make more people aware of the disease.