Just when it looked like everything was ready to be put to bed, one game brought it all back into the spotlight…

Rooney was at the Double for Manchester United in match fraught with tension
The idiocy of Luis Suarez and the pig-headedness of his manager were the main talking points of the weekend, with Sunday's apologies after the event somewhat irrelevant. Whatever went through Suarez's mind – if indeed it's not just a vacuous void – it poured fuel on the flames after a week which had seen an incident related to racism result in the England manager leaving his post.
When Liverpool face Manchester United, many neutrals would happily see both teams lose. Alas, that's not possible, and Alex Ferguson's men secured a narrow win which temporarily lifted them to the summit of the Premiership, courtesy of a Wayne Rooney brace.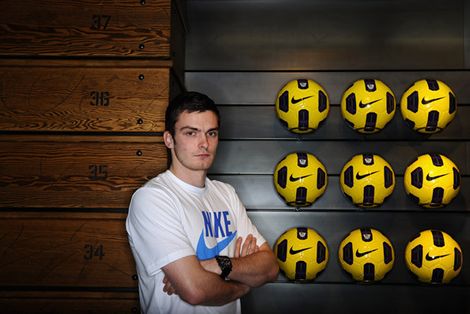 Adam Johnson was given a rare chance to start for Manchester City
Manchester City reassumed the throne little more than 24 hours later, with a win which was more comfortable than the scoreline suggested at struggling Aston Villa. It's anyone's guess as to whose nerve will hold best in the run-in.
Mick McCarthy's tenure at Wolves came to an end with a horror show at home to West Brom in their Sunday derby. Wayne Hennessey kept the score down in the first half so the sides somehow went in level at 1-1, only to be culpable for the goal which triggered the collapse after the break.
The fight to avoid the drop heated up on Saturday with wins for Blackburn and Wigan over fellow strugglers QPR and Bolton respectively. You do wonder if there will be any further managerial changes if panic sets in.
Swansea and Norwich served up a wonderful game in the Liberty Stadium, demonstrating that essentially lower league players can deliver if coached properly. Without sounding patronising, both managers are doing sterling jobs. A fewer so-called larger clubs in the Championship should take heed.
Spurs blew away Newcastle in the evening game, with an explosive first half hour in which Emmanuel Adebayor excelled. Newcastle – in their, er, black and white change kit – never got the chance to settle in a fixture which was always going to be a Harry Redknapp love-in.

Thierry Henry added to his legacy, proving to be an astute piece of business for Puma
Speaking of love-ins, Thierry Henry will no doubt be asking about another statue after the third goal of his Arsenal return stole all three points for the Gunners at Sunderland. It was harsh on Martin O'Neill's side, for whom Per Mertesacker grabbed an assist with a delightful step-over.
Finally, to AVB. Where to now for Chelsea? The revolution isn't really taking shape, and a 2-0 defeat at Everton was significant in that it saw them surrender 4th place. By comparison, David Moyes continues to work wonders at Goodison with a fraction of the budget.