Perry's recollection of his first pair of football boots is vividly clear, aged six he had a pair of Winfield's.
Winfield was the Woolworths own brand of football boots and were designed with four stripes on the side. Of course one stripe was removed and the Winfields four stripes became adidas or so Perry would claim.
A young, make that very young Perry Groves
Three years later and Perry's talent must have been shining, his parents bought him a pair of adidas Beckenbauer Super football boots. A popular choice at the time with Beckenbauer being amongst the worlds best players. This was a traditional black, three stripes football boot, only the stripes were yellow not white.
Perry's professional career began at Colchester and at that time players supplied their own boots. But when he became George Graham's first signing for Arsenal, things started looking up for Perry and his feet.
At a club like Arsenal, boot company rep's and agents were on the prowl to get the players wearing their boots. It was no different for Perry. Arriving with the adidas boots he bought and used at Colchester, they were replaced by the club for a new pair. But it wasn't long before PUMA paid Perry to wear their boots for the season, with bonuses if he wore them in a cup final, which he did.
He switched back to adidas after the PUMA contract was up, but Perry's best boot deal was with Italian football boot brand Lotto.
Following the 1990 World Cup in Italy, Lotto were keen to extend their presence to the top English league. They approached Perry and offered him a three year contract to wear the Lotto brand. They paid well for the time, with Perry receiving £2,000 in year one, £3,000 year two and £4,000 year three, plus all the leisurewear he wanted. Not that it suited him!
Perry felt their clothing was made for the typical Latino bodyshape, tight round the hips, something Perry felt highlighted his large behind. He likened his look at the time to a gay Jimmy Saville.
Perry felt his boots were also built for the Latin shaped foot, too thin for his liking and he'd ask his "boot boy" to wear the boots in for him before he'd train or wear them in a competitive game.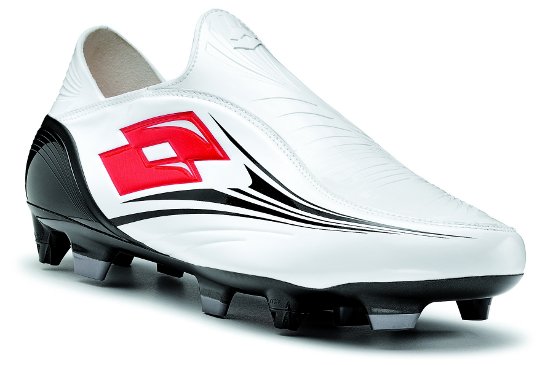 The modern day Lotto boot – Zhero Gravity Tre
Towards the end of his time at Arsenal, Perry switched to Brooks football boots.
Although Perry was delighted with all the leisurewear Brooks supplied him, he felt the football boots were like wearing bricks. This led to him switching back to adidas, removing the branding and adding the Brooks logo on to the boots.
Perry got away with masking the boots but fellow team-mate, the late David Rocastle, didn't have such luck when he tried the same manoeuvre. Rocastle had painted the Nike logo on his adidas boots but a shower during a match washed the paint off, leaving him in hot water with his sponsor.
Perry has now swapped his boots for a pen, having turned literary sensation. His first book, an autobiography, "We All Live in a Perry Groves World" outsold Ashley Cole's memoirs which was released at the same time. This was a result of its honest approach and the fact that Arsenal fans wanted to elevate the cult figure above Cole in the book charts.
His latest read sees Perry pick out his own 20 heroes of the game, hence the title "Football Heroes". Including a range of players from Pele to Matt Le Tissier, its Perry's take on the characters and their ability, yet carries his signature humorous character.
Perry Groves is a judge for the Footy Boots Football Boot Awards. If you haven't voted yet, get your skates on and register your vote here.
Crowd image courtesy of arsenalpics.com