Just over 48 hours after his move to Warrior football was confirmed, Tim Cahill gave his new football boot-suppliers something to celebrate with a place for himself (and the Warrior Skreamer) in the record books.
The Australian talisman took a mere seven seconds to get on the scoresheet in the New York Red Bulls game at Houston Dynamo, setting the record for the fastest goal ever scored in Major League Soccer.
Not a bad way to open your account for some new footwear, we're sure you'll agree.
But that got us thinking – which other players have given their new cleats a game to remember when wearing them for the first time?
We've compiled a last of seven other debuts that we think stand up next to Tim Cahill's extraordinary achievement:
Date:' 6th January 2013
Venue:' Estadio Santiago Bernabeu
Match:' Real Madrid 4 – 3 Real Sociedad
Debut:' Cristiano Ronaldo, Nike Mercurial Vapor IX
In his first official game as captain, Cristiano Ronaldo helped a 10-man Real Madrid overcome a determined Real Sociedad side in his first game wearing the Mercurial Vapor IX.
In an usual twist, Nike launched a 'Ronaldo Custom' version of the Vapor IX before it's debut to mark Cristiano Ronaldo's achievements throughout 2012 ahead of the announcement of the winner of the Ballon D'or.
Whilst Ronaldo might have lost out on the World Player of the Year title, he did dispatch two goals – one a signature free-kick – to win the match and give him a tally of 171 goals in 171 games for Los Blancos.
Date:' 9th March 2012
Venue:' Emirates Stadium
Match:' Arsenal 2 -1 Leeds United
Debut:' Thierry Henry, Puma King SL
Not many players get to re-write their place in a club's history, but Thierry Henry did just that when he returned on loan from New York Red Bulls to Arsenal for a spell.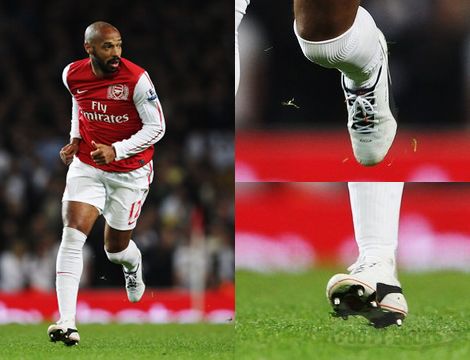 An Arsenal legend, some were raising questions over welcoming Henry back to the Emirates.
However, Henry allayed any fears he might damage his legacy in North London, stepping off the subs bench in a pair of then-unreleased Puma King SL to score the winner over a stubborn Leeds United in the cup.
Having been billed as 'The Return of the King' by Gooners, it was masterful marketing of Puma to get their then-new signing into a pair of their latest Puma Kings.
Date:' 1st November 2011
Venue:' Doosan Arena
Match:' Viktoria Plzen 0 – 4 Barcelona
Debut:' Leo Messi, adidas F50 adiZero miCoach
After a shock trial outing in an international friendly, Leo Messi was in imperious form to give the adidas F50 adiZero miCoach it's competitive debut in the Champions League.
The Argentine was in no mood to take prisoners in this Champions League away tie, bagging a hat-trick to complete a perfect debut for the first miCoach-powered F50 adiZero.
Bonus fact: This was also Cesc Fabregas' first game in the Puma PowerCat 1.12, and he was also on the scoresheet to give his new boots a great start to their shelf life.
Date:' 18th March 2010
Venue:' Craven Cottage
Match:' Fulham 4 -1 Juventus (5-4 on aggregate)
Debut:' Clint Dempsey, Nike Mercurial Vapor Superfly II.
The Europa League can sometimes pull a few surprises when it comes to football boots. With games played on Thursday nights, some players will often sneak a pair of the weekend's new releases on to the pitch, leaving sponsors more than a little frustrated.
There will have been no ill-feelings from Nike towards Clint Dempsey, mind you, when he laced up the Superfly II for the first time in Fulham's Europa League semi-final against Italian giants Juventus.
Starting the match 3-1 down on aggregate and making things even harder on themselves with an early goal, Fulham needed to bag four to avoid penalties.
After his team-mates had obliged with enough goals to see the game brought to 4-4 on aggregate, Clint Dempsey (who by and rights should have been laid out with an injury) dinked a majestic chip into Gigi Buffon's net to create one of Fulham – and European football's – most memorable upsets.
Date: 12th January 2008
Venue: Old Trafford
Match: Manchester United 6 – 0 Newcastle United
Debut: Cristiano Ronaldo, Nike Mercurial Vapor IV
An amazing display by Cristiano Ronaldo saw him secure his first ever hat-trick for United who scored all of their goals in the second half.
He opened his account with a trademark free kick, added a second after a superb move which included contributions from Wayne Rooney and Carlos Tevez before bagging his third two minutes from time, his 22nd strike of the season.
Date: 27th May 2009
Venue: Stadio Olimpico
Match: Barcelona 2 – 0 Manchester United
Debut: Lionel Messi, adidas F50i
Twenty minutes are left in the Champions League final and as United fail to clear, the ball falls to Xavi. He strolls forward and sends his cross towards Messi who has split the United centre backs. For a moment it looks as if the pass is too high, but the diminutive genius seems to hang in the air and expertly sends his header in to the corner of the net. 2 – 0.
Never one to miss a trick, Messi wheels away in celebration, takes off one of his new boots and gives it a kiss. Cue adidas bonus!
Date: 4th October 2009
Venue: Emirates Stadium
Match: Arsenal 6 – 2 Blackburn Rovers
Debut: Cesc Fabregas, Nike CTR360 Maestri
A peerless performance by the Spaniard who tore Rovers apart.
He started by providing an assist for Thomas Vermaelen to score Arsenal's first equaliser before two slide rule passes set up further goals for Robin van Persie and Andrey Arshavin as the home team went in to the break 3 – 2 up.
Fabregas then got on to score sheet himself with a sweet left foot volley before twice being involved in a sweeping move in which he ultimately set up Theo Walcott for Arsenal's fifth.
His debut was all the more pertinent as it was only a few days before that Fabregas had been on hand to reveal the new 'playmaker-focused' boots at the official launch day.
So, they are our top 6 debut picks. You, of course, might have a different view. If so, let us know by commenting below.