2013 had no right to be a great year for football boots. Sandwiched between a European Championships and a World Cup, major releases seemed positively unjustifiable with an absence of major tournaments.
But much like this summer's Confederations Cup, perhaps a lack of expectation made all the great stuff that did happen just that little bit more special. With that in mind, let us take you back over ten of our favourite releases this year.
Nike Hypervenom Phantom
Probably one of maybe three boots which would be out 'Boots of the Year' for 2013, the Nike Hypervenom Phantom is a truly great release from Nike – perhaps even their best boot ever.
Neither power nor speed, the Hypervenom carves out a new niche as an attackers boot, that's as light as a speed boot and packing a revolutionary upper around one of the best lasts in use at the moment. A true innovation.
adidas F50 adiZero
The F50 series finally gets the sequel the 2010 adiZero always deserved. Lighter, faster and packed with new features and technology, the latest F50 adiZero pushes the design to places the last three years of revamps could scarcely dream of.
Part of the Samba Pack thats still dominating pitches adidas underlined how big a part of the footballing landscape they are by launching the new adiPure 11pro alongside bold, Brazil-themed colourways for their four main boots.
Hummel Old School DK
With boots like the Morelia Neo proving there's still a massive calling for truly classic boots with modern performance upgrades, Hummel have stepped up to the plate with the Old School DK.
Ditching the clunky foldover tongue of the 2011 Old School and updating the chassis with a single piece of TPU gives the Old School DK a speed boot vibe, whilst retaining the K-Leather that made Hummel a major player in the 60's and 70's keeps the whole boot most assuredly – well – old school.
adidas Nitrocharge 1.0
Launching a fourth silo must be intimidating for any brand; fears of cannibalising sales of other boots and trying to tempt professional footballers into something new are just two concerns at the top of a long list.
Whilst arguably adidas have been victims of both of those issues. But true to the nature of the player's the Nitrocharge is designed for, the Three Stripes have bullishly shrugged off any blows and continued with one of the most comfortable, evolutionary boots of the year.
Puma evoSPEED 1.2
A boot forged by player feedback, the evoSPEED is proof-positive that the 'new' Puma is an exciting animal indeed.
When looking at the list of concerns with it's predecessor, Puma have rapidly adjusted them in just a year's turnaround: Players always going for a leather upper? New leather-effect synthetic. Players modifying boots to use the King soleplate? New conical stud system.
If Puma can continue to evolve their boots in accordance with what athletes of all standards tell them, they could be back to their 70's heyday by the end of the decade.
Warrior Gambler
New brands always enter the market with trepidation; releasing one boot every 18 months-to-two years and signing the odd top-four squad-player to wear them.
Warrior, however, have bossed it. Three launched in a little over a year and snagging some exceptional players to wear them. Whilst not the best-represented boot on the pitch, the Gambler performs like a dream; a low-profile control boot that evokes past Predators reborn with future tech.
Mizuno Wave Ignitus III
Mizuno are sometimes a tough brand to follow; from releasing boots in certain colourways for certain markets, to having entire ranges either designed for or culled off in particular territories (Supersonic Wave, anyone?), the Japanese brand aren't as straightforward as the Nikes or adidas' of the world.
But that unpredictability sometimes leads to being blindsided by boots like the Wave Ignitus III. Whilst the II barely changed anything from the original Wave Ignitus, the III is a drastic re-imagining of the concept at the heart of the boot whilst still retaining design ques that are unmistakably Ignitus.
Ryal Europa
No boot has surprised us upon wearing like the Ryal Europa has. We expected a curiousity; a novelty that would be rapidly consigned to a bookshelf and occasionally talked about with team-mates from time-to-time.
Instead, I found comfort and performance like few other boots on the market, with leather that has to be played in to be believed, and quilted 'pockets' that cushion the football and foot alike.
Nike Tiempo Legend V
When launching the Tiempo Legend IV Elite in 2011, Nike reinvigorated the silo with more interest than the Tiempo had had in a long while. But how do you follow that for the next incarnation?
Well, like this. Take the Tiempo design template, imbue it with unique water-proofing and hydrophobic technology, add an unexpected upper (was anyone really sure it would be K-Leather again after the success of the Premier?) and wrap it all in a colourway that is so visible, it can't help but remind us just how many players still rely on Tiempo.
Puma King Lux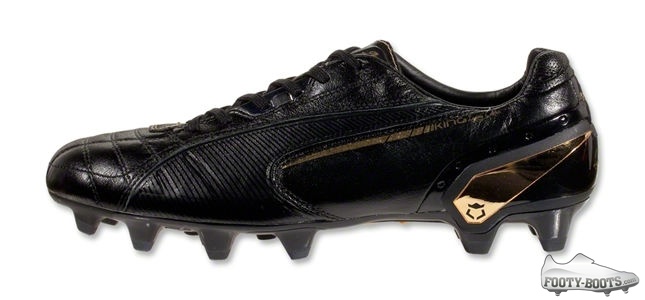 We're going to cheat just a little bit here; we originally reserved a spot for the 2013 King, but it did technically release in December 2012 – so instead we're subbing in the King Lux.
Bringing back the K-Leather that the boot is famous for and shipping as a limited edition is solid marketing from Puma, and the current King is a phenomenal performer on the pitch to boot.
That's all from us for 2013 – have a very Happy New Year from the Footy-Boots.com team and be sure to list your top ten boots from the last twelve months in the comments below!