As with all T90 Laser III releases, there's always an alternative for the leather Laser lovers out there in the world, which Nike are providing this time out in this gorgeous Summit White/Metallic Silver/Crimson version of their best-selling power football boots.
The T90 Laser III's have been somewhat lukewarm-ly received in their leather incarnations, with many players seeming to prefer the brightly coloured synthetic options, over the classic Black/White leather colourways.
We think there could be a shift in power though, as this'  Summit White/Metallic Silver/Crimson colourway is one of the best – if not the best – that Nike have put out yet, in our humble opinion of course!
The bold Crimson red around the tick is a great way to stop the boot feeling too 'cold' and boring, and contrasts nicely with the white and silver – reminding us of one of the last colourways that the Laser II came out in.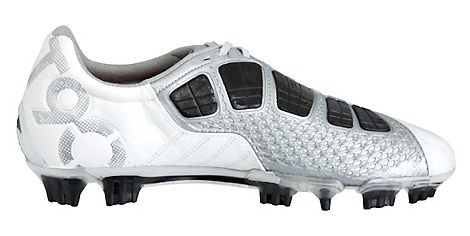 We also think that notoriously picky (when it comes to football boots, anyway) Spanish striker Fernando Torres might have had a word with Nike's design team as these boots are right up his street – White, Leather and in colours that are a great match for his Liverpool home and away kits.
If the off-the-boil striker suddenly hits red-hot form in the new year, you know that it's be entirely down to his perfect new football boots! Maybe.
If you're fancying a pair for yourself, these T90 Laser IIIs will start shipping on January 1st with pre-orders being taken from today – costing £129.99 or $219.99 in the US.
We've told you what we think of these football boots, now it's your turn!
Use the boot-o-meter and the comments to have your say!
T90 LASER III – SUMMIT WHITE/METALLIC SILVER/CRIMSON, 6.8 out of 10 based on 50 ratings