The Nike Superfly III.
Here's the lowdown on the third incarnation of Nike's leading speed football boot.
Nike Mercurial Vapor Superfly III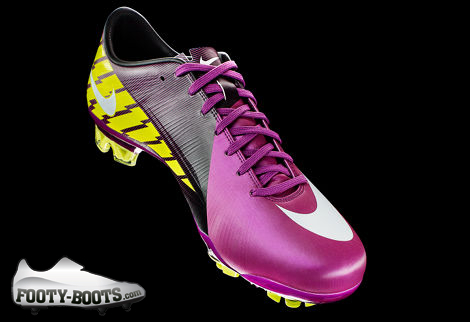 '  || Shop for Nike Football Boots ||
The new Nike Mercurial Superfly III represents the pinnacle of Nike's football boots research and development, designed around innovate technology and shaped by feedback from top professional players, including; Cristiano Ronaldo, Didier Drogba, Zlatan Ibrahimovic and Franck Ribery.
The foundation of these celebrated football boots comes from their unique FlyWire upper – which is basically dozens of highly durable strands which offer ultra-lightweight, dynamic support, enabling the Superfly III to offer an unparalleled level of fit, comfort and performance to the wearer.
Housing this one-of-a-kind technology is a 3-layer Teijin-designed upper, consisting of Teijin synthetic leather, microfibre substrate and polyurethane for comfort. Working together, these materials allow the Nike Superfly III to set a new benchmark for synthetic football boots when it comes to ball feel and support.
The base of this structure comes in the form of a full Carbon Fibre soleplate, which offers exceptional strength and energy return, whilst being light and flexible enough to be used on Formula One cars and aircraft.

The Superfly III – de-constructed! (Click for a bigger version!)
Nike's real show-piece comes in the form of two NikeSENSE 'Talon' studs on the forefoot. Capable of extending by up to 3mm when used on softer turf, these dual-density studs offer a previously undreamed level of dynamic, adaptable level traction for even the most athletic of athletes.
Coupled with a bespoke off-the-toe traction pattern, directionally positioned blades and T-Bar stud construction the Nike Mercurial Superfly III is designed to enhance first-step acceleration and speed in a way no other football boots can.
Nike also re-engineers the science of visual acuity specifically for their football boots; by placing contrasting colours on the heels of the Superfly III, players wearing them instantly become more visible to their team-mates when running, increasing the likelihood of their team mates spotting them in time to make a killer pass or through ball.
Now, if all this sounds familiar, it's because Nike have more-or-less re-engineered the Superfly II for their new generation of football boots, in the same way that adidas reinvigorated the adiZero with a new upper design and price point, rather than a full silo update.
The good news for Superfly fans is that the Superfly III will not come with a new price point, and will hold steady at a launching RRP of £275.
In case you haven't guessed by now, the Superfly III's weight will also remain the same as the Superfly II – 210g in a US size 9.
The new Nike Superfly III will be debuted officially by Cristiano Ronaldo and Mesut Ozil when they take on Athletico Madrid in the Madrid Derby on Saturday the 19th of March 2011, and will hit retailers on April 1st at the aforementioned price point of £275.
Available in two launch colourways; Plum Red/White/Neon and Marine Blue/White/Orange, expect to see the Mercurial Superfly III take over pitches across the world in the coming weeks.
Nike are broadcasting a serious statement of intent with the new Superfly III; rather than doing what everyone expected and joining adidas in a battle for the lightest football boots, they've instead taken the stance that they're more technologically-focused football boots will offer players the greater benefit to their game.
So now it's over to you, what do you think of the new Superfly III, will they be in your shopping basket?
Are they a perfect rejuvenation of the Mercurial range from Nike, without needlessly hiking the price? Or an interesting shift of focus from the American brand, moving away from weight-focused football boots?
'  || Shop for Nike Football Boots ||
The only way to get your voice heard is by using the comments below!
SUPERFLY III, 8.3 out of 10 based on 446 ratings