Rewind four years; the World Cup has just ended, and adidas created one of the biggest talking points of the tournament with the launch of the adidas f50 adizero.
At 165g, the adizero was the lightest football boot to be made available at general release, and was an instant hit. A combination of the on-foot 'wow' factor players got when putting on these football boots for the first time and an intense marketing push by adidas meant the f50 turned from luke-warm to red-hot, with footballers of all levels clamouring to wear them.
Following that, the chase was on; PUMA, Nike and even Pele Sports tried their hands at being 'the lightest", all the while, adidas attempted to better their effort with releases like the adiZero Prime.
But in just four years, the appetite to be the lightest seems to have subsided.
As the technology to make boots lighter crossed from boots like the f50, Mercurial Vapor and PUMA v1 series to others in the stable, the divide between 'super-lightweight' and an ideal weight for a football boot became less and less.
'Power' boots like the evoPOWER and Predator now skirt the 200g barrier thanks to lessons learned four years ago, and with adidas deploying the SprintFrame across all their models at some point, they haven't made a boot that weighed over 250g for over two years.
Mizuno, Umbro and other companies, who perhaps wouldn't have been able to make a lightweight prototype four or five years ago, can now make every boot they produce under 250g – it's a little like what Syndrome says in 'The Incredibles': 'When everyone's super, no-one is'.
Mizuno's Morelia Neo: Under 200g with a K-Leather forefoot – Are consumers really bothered by another 20g off the weight of a boot like this?
Consumers have also become more savvy; super-lightweight boots aren't worth that extra premium anymore. Back in 2011, adidas could knock 10g off the adizero, call it the 'Prime' and it sold like gangbusters.
In 2014, you can still find the adizero Crazylight in-stock, unsold after six months: an extra 20g off the current-gen f50 for £100 extra is no longer worth it.
It seems many players have grown bored with weight statistics being thrown around, acknowledging that a boot being light doesn't necessarily mean it's good, and indeed, that a good boot isn't always light.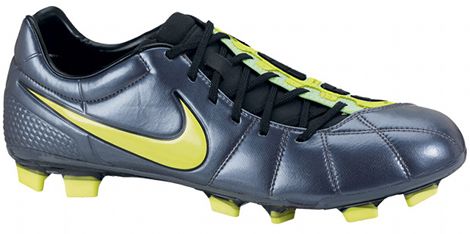 Nike's T90 Laser III weighed 330g – Double the weight of the original adiZero. Today's Hypervenom is almost dead-on 200g. That's progress.
Not only that, the disparity between weights is no longer that great. The original adiZero launched at a time when the T90 Laser III was a hot release and tipped the scales at 300+ grammes – jumping from that boot to a 160g release is night and day.
Now, when adiPures and Tiempos are under 250g per boot, the difference 'on foot' is no longer as great, and the pay-off of trading touch or ball feel is no longer there.
However, it might be that there is a second era of lightweight football boots on the horizon: just last year, adidas revealed the 99g football boot at the adidas Lab in London. Would having that same drop, that same level of 'when I put these on my feet, this is something I've never felt before' get people excited about super-light football boots again?
Let us know in the comments!