In an unprecedented move, Spain could be the first European nation to participate in the traditionally South American Copa America competition following an invitation from the organisers this past weekend.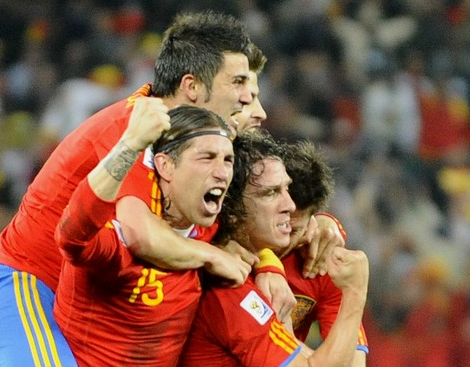 The reigning World and European Champions have been offered the chance to square off with the likes of Brazil, Uruguay and hosts Argentina this coming July following the withdrawal of Japan.
Japan were one of two invitees set to play in the competition (the others being Mexico), but the Samurai Blue have been forced to withdraw out of necessity after the devastating earthquake and Tsunami that hit the Far East earlier this year forced them to reschedule their domestic league matches.
This left the door open for another participant; traditionally the United States or Canada would be invited, but are often forced to withdraw due to the overlap with the MLS – so the organisers have seen fit to invited Spain.
Spanish football federation president Angel Maria Villar said they were seriously considering playing in the competition;
"Yesterday we received the official invitation, and we can't rule it out," Villar said at an event in Barcelona, "Next week or the week after we will determine at a meeting of the board of directors whether we will accept the invitation,".
Villar continued "I don't rule anything out when the request is made with affection and love, but at the same time taking into account the difficulties,"
"That doesn't mean we are going or not, but as president I have the obligation to take it to the board.".
There's no doubt that getting the World and European champions along to the Copa America would not only increase attendance at the matches and the size of the global audience watching around the world – but could inviting Spain be a horrible mistake?
Inviting the Canada, Japan or Costa Rica is one thing, but inviting a team that could potentially defeat Argentina and Brazil could lead to horrible embarassment!
What do you think of Spain potentially playing in the Copa America?
Get your opinion heard in the comments below!