Simon Skirrow is the man who jointly designed the Adidas Predator along with former Liverpool star Craig Johnston. Involved in the sports shoe market place from the age of 17, he became one of the youngest ever Vice President's at Adidas in charge of global production, sales and marketing. After a hugely successful period in Germany and then the USA, he took a spell out of the industry before returning to set up Nomis.' 
FB: Simon, let's start right up to date. Can you tell us your thinking behind the latest Nomis boot, the NXGEN Spark?
SS: Well I guess we are trying to express a couple of things. First, a new dimension of applying function by allowing us to personalise and individualise our technology but with a really nice feel and look to it. But in saying that, I certainly didn't want the overall look to interfere with the technology, comfort or performance. And that's a real trick because often, new technology can be harsh and aggressive. So we enhanced what we had already created by finding a way to apply a high quality digital design on to leather which is one of the hardest things to do. It took us about 16 months to perfect and that's with a guy pretty dedicated to it full time. But now, the staff who've been working on this are thrilled to see the boot in production.
Secondly, as for the boot itself, when you get it in your hands, it's like nothing else you'll have experienced before. The possibilities are endless but we are going to treat this carefully as it's not something we want to do on a mass production basis.
FB: One imagines that being a smallish company has advantages and disadvantages, but in terms of the NXGEN, do you think that a major brand couldn't or wouldn't to have produced something similar?
SS: It would be hard from me to say whether they would or wouldn't want to do it but I would suggest that it's a case of once having the technical know how, seeing if that fits in to your business model. Looking at the market place a year ago, for most brands it was pretty optimistic but that is not the case any more. I would be shocked if most of the international brands aren't going to be 20 to 30% down. Now when that happens, innovation becomes a questionable direction.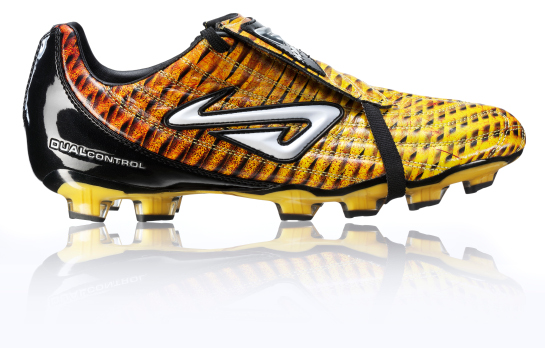 Past recessions have shown us that companies retreat to what they know they can do so in terms of retailers, I'm concerned that they'll only buy the standard products like the Adidas Copa Mundial or the Puma King. And let's not forget, these are products that were designed decades ago.
As for why we did it, quite simply, we aren't pumping our money in to the likes of say Cristiano Ronaldo. We are pumping the money in to the product. And I'm personally devastated if someone buys one of our products and can't get on with it because we've tried to design them with every consumer in mind.
So as far as the NXGEN is concerned, I think it's a space that we can own, we're really motivated by doing that sort of thing. I think it's much harder for the big brands to do it and I'd imagine that the mid-size brands, not that I class ourselves in that category, are probably scratching their heads at the moment thinking 'what do we do now'?
FB: Being up against huge multi-national companies with enormous budgets for production and marketing, do you ever wake up in the morning and think, sod this for a lark, I'm going to start cleaning windows?
No. Never. This whole pursuit is just so enjoyable for me. Don't forget, I have been part of a big brand, I've gone through the era before sport became fashionable, I've seen company directors concern themselves about sponsorship and the like and that's how we've ended up where we are today which is with the market being totally oversold.
My real goal is to be the friend and the server of the football player. And rather than concerning myself with the pro's, it's far more exciting for me to pitch up at an amateur club and introduce myself, not that they've ever heard of me, and sit and talk to them about why I started Nomis.
And I'm there to treat them like a professional. I want to give them the exact same service I gave Bayern Munich in my previous career. That to me is far more rewarding because the truth of the professional game is that you can't 'touch' these players any more. They're not real people to me. That's not their fault. It's just that the pressure on them within the game has turned made them untouchable. And yet, the consumer looks at these people as idols and role models, even though in my mind they are invisible.
My dream was to produce better football boots but take them to the people who pay for them.
In part 2 of Simon's exclusive Footy Boots chat, find out why he returned to the industry, what he thinks of the explosion in the number of football boot colourways and he tells us his which is his favourite boot of all time.' ' ' '