After a full weekend of teasing adidas have given us the thumbs up to bring you the brand new Scotland Home Shirt 2012-13 before anywhere else!
It's do-or-die time for the Scots tonight, as they travel to Alicante to face the might of European Champions Spain in search of a victory to guarantee a place at Ukraine & Poland 2012.
Charlie Adam, Darren Fletcher & Co. could get away with a draw or even a loss depending on the outcome of the Czech Republic's game, but all of Scotland will be hoping that the chance to wear the new' Scotland Home Shirt 2012-13 at the Euro's will be enough to inspire the team to what would be one of the most famous dark-horse results of all time, should they win.
So, the last tartan army kit only came out last year, what makes the Scotland Home Shirt 2012-13 different?
Older footy fans among you will recognise the round badge from the 1974 shirt worn by Scotland at the World Cup in West Germany, whilst the embroidary around the edge marks the founding of the Scottish FA in 1873
Whilst last year's shirt had an imprint of the Royal Standard across the chest, the' Scotland Home Shirt 2012-13 has a design embossed across the chest that really kicks it up a notch; incorporating a range of sources from around the Scottish FA's rich footballing history " including the old and new Hampden Park, the Lion Rampant, the Thistle and more.
After last year's inaugural adidas, we're pleased to see that a little more love and affection has gone into the finer details of the Scotland Home Shirt 2012-13 – including a really smart new collar.
White shorts and Poppy coloured socks (that feature ˜ALBA", Gaelic for Scotland) across the front complete the kit, and we're sure they're going to be a real hit with Scottish footballing fans the world over.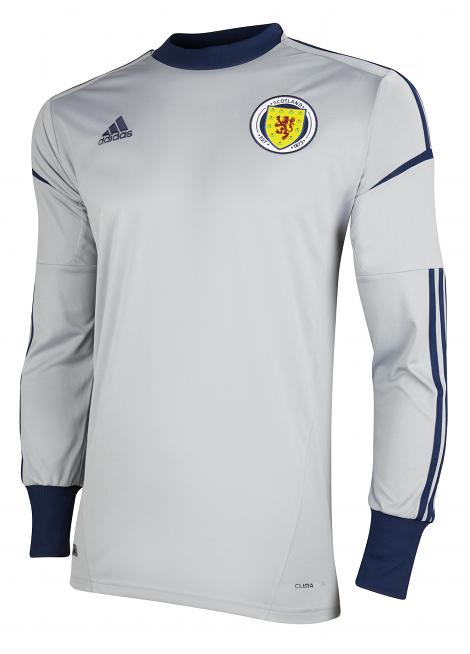 The home goalkeeper jersey is a simple but elegant mix of silver / dark Indigo which links it to the outfield home jersey. The iconic printed Saltire is featured on the back and ClimaCool technology is incorporated for additional ventilation.
The new Scotland kit will go on sale on Tuesday 8th November 2011, with adult shirts starting at £50 – Pre-Orders are open now, so make sure you used the banners at the top an bottom of this post to make sure you're among the first to get yours!
NEW SCOTLAND HOME SHIRT 2012-13, 8.2 out of 10 based on 17 ratings