According to the kind of men who wear white coats and look through telescopes at the moon we inhabit a dodecahedral cosmos. An unusual opening gambit for a Footy Boots article, but for those of us who obsess about the beautiful game, science and sport are inextricably linked.
The two go back as far as Leonardo Da Vinci's days (the Alex Ferguson of his era) when he and his philosophical chums worked out that the universe is dodecahedral shaped – like a football.
Since then the science of sport has moved on, we no longer kick a pigs bladder about, preferring the occasional cowhide or sweet sound of PVC rattling the back of a net. Indeed, the major players manufacturing the contents of our kit bags and lockers spend millions on research and development, and even more convincing us that only they provide the competitive edge.
Whether it be compensating for the mental fatigue or the physical stress of a game, yesterday's Bunsen burners and Petri dishes have been replaced by supercomputers and design technologies, which play a critical role in the theory and practice of new product development targeting top athletes and you and me.
There is science behind everything from the ice-baths of Premier League training programmes (reduces the negative effect of soft tissue damage) to the compression, cold gear and heat gear garments we wear to facilitate rapid recovery from exercise or stay warm during a January blizzard.
Many football clubs spend more than half their revenue on players salaries. So, anything science can do to protect these princely assets is key to their survival. Top clubs invest in equipment, consultants and research that would put your local NHS hospital to shame. Biomedical software designed to predict injuries is commonplace having been trialed as far back as 2002 by clubs such as AC Milan. And countless millions has been spent employing scientists to help players understand the bend of Beckham's balls!
The most obvious expression of science on players is their boots. Beyond the fancy-dan styling, the majority of R&D is invested in technologies to protect metatarsals and ligaments, add power, stabilise momentum and combat the effects of water, mud or sweaty feet on performance.
Aside from the move from wearing clogs, to lace ups, boot technology didn't really evolve much last century, until former Aussie Liverpool legend and Footy Boots Awards consultant Craig Johnston, became the Godfather of Football Boots with his creation of the Predator which was unveiled by adidas in the 1990s. Johnston designed the Predator to create extra traction between the boot and the ground.
Under Armour Dominate Pro

Today companies such as Under Armour, Nike and adidas take this further, investing more and more into stability, protection and speed. As you'll see in the Footy Boots Football Boot of the Year competition, a lot rides on their success as combining style with science.
As the newbies on the scene Under Armour's Create and Dominate football boots give a first impression that they were conceived by a cross between an Italian couture designer and NASA. No wonder they are nominee for Safest Football Boot and Most Innovative Football Boot Feature.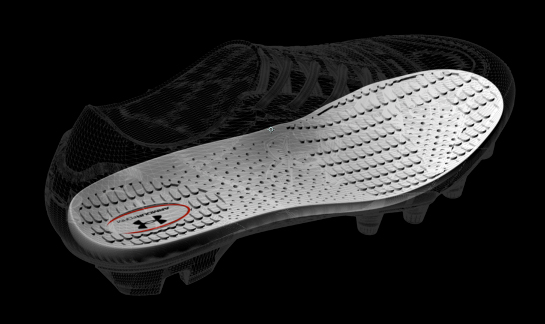 Under Armour ArmourForm
The science of feet shapes has shaped both boots – fit and comfort were the starting point for Under Armour's professors, followed by the performance of insoles and outsoles for added metatarsal protection, enhanced ball contact and moisture control. Such innovations can't make everybody a top scorer, but science can provide the critical difference between a boot that performs well the first time you lace it up and one that blisters your skin leading towards an early bath and the physios.
So, why not take a trip into the science of football boots with this exclusive and revealing video which goes behind the scenes of Under Armour's Create and Dominate boot development.
The Making of Under Armour Football Boots