Wayne Rooney scored twice after being unleashed from the bench, as Manchester United beat Portsmouth 2 – 1.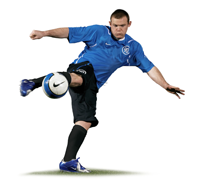 Wayne Rooney's opening strike against Portsmouth in the FA Cup, was crucial, his second was sublime.
In a game where the referee attempted to take centre stage by cancelling out two perfectly good goals for Manchester United, and Cristiano Ronaldo was rumoured to be at Real Madrid for a medical, it needed some magic to bring the attention back to football.
England's finest player did just that!
His second goal was evidence that Rooney is capable of becoming the world's greatest player. His second strike was a sublime lofted chip from 20 yards that left David James helpless.
The draw for the FA Cup 5th round takes place Monday 1330 GMT.
You can see the fixtures here, as soon as they are drawn.
Wayne Rooney Football Boots
Wayne Rooney wears Nike Total 90 Supremacy football boots.
View the Total 90 Supremacy Image