Even after a crushing 6 – 1 defeat at the hands of the local Gasworks XI, it's still possible to walk off the pitch, with your head held high as you emulate your favourite Premier League or International player.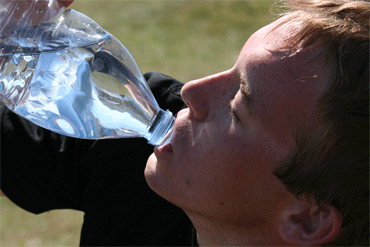 The game may not have gone as planned, but your after match routine can still be 'Gerrard-esque'. All you need do is reach in to your kit bag, and pull out a brand name specialist sports drink, of which these days there are many to choose from.
The manufacturers of these products suggest that they provide better results than drinking just water. At the Lucozade Sport Science Academy (yes, there really is one) they maintain that it is not only water you lose through sweating, but also essential body salts.
They go on to say that although drinking plain water helps to replace lost fluid, it is not the best solution for rehydration. Sports drinks have been designed to offset the impact of dehydration by replacing both the fluids and body salts that are lost during exercise. Plain water actually reduces the number of electrolytes in your body, diluting your body's fluids. This 'tricks' your body into thinking it has too much water and the thirst mechanism is switched off while urine production may begin to increase. Drinking a fluid containing electrolytes helps maintain the balance, allowing more of the water you have drunk to be retained by the body thereby promoting better rehydration.
Whilst these arguments may not be at the top of your post match agenda, particularly if you've missed a sitter from 6 yards, it does form the basis of what has become a multi-million pound industry.
Lucozade alone has supply contracts not only with football but also tennis, canoeing, hockey, rowing and judo to name but a few. And it's not only individuals they are supplying, but the Governing bodies too.
Another company now getting in to the act is Zuku. They've recently released Soccer Pro, a new match day supplement for players. Importantly, as well as the science, they've backed it up with some good old statistics.
Looking in to mental fatigue, their research shows that in the 2006 / 07 season Premier League season, 151 goals were scored in the final ten minutes of games, that's a staggering 16% of all goals scored. True, most of them were by Manchester United and Arsenal in the 97th minute, at home, after the 4th official had shown just 2 minutes of stoppage time, but they are compelling figures nonetheless.
Over the past 3 years, Zuku has spent in excess of £600,000 researching the new product, with their
Swiss based scientists (taking a break from chocolate obviously) working closely in tandem with a number of professional players in the UK. On Footy Boots tomorrow, we'll delve into the actual science and take a look at some of the conclusions that Zuku reached before Soccer Pro went on to the market.
Meanwhile, another major player in the market place is Powerade, which is owned by Coca Cola. Currently number 2 in the world sports drink charts, Powerade, is associated with the GB Olympic team, the Football League and the RFU and on an individual basis; they sponsor England rugby full back Josh Lewsey and Manchester United and England's Wayne Rooney. Big on design, bright in colour and boasting the benefits of being isotonic their logo can also be seen several times in the movie Talladega Nights: The Ballad of Ricky Bobby, as one of Ricky Bobby's (Will Ferrell) sponsors. Ricky also states that "due to a binding endorsement contract", he must mention Powerade each time he says grace.
The sports drink market may not quite have sunk to that level out here in the real world but with some of the biggest names in drinks manufacturing all looking for a share of the pie, or should that be bottle, it may only be a matter of time.
As for footballers and athletes, if drinking a product pre match or post match, chomping on an energy bar on the way to the game or sucking on a 19th century Japanese herbal remedy gets you to play better, or even to think that you play better, then so be it.
The days of walking off the pitch with a plastic bottle of orange squash made up by your Mum may just be numbered.
(Remember, you can read part II of our study in to sports drinks, and the sciene behind them, on Footy Boots tomorrow).