With only two matchdays to go in the 2010 Fifa World Cup qualifiers, Wayne Rooney continues to dominate the Castrol Index with a rating of 9.59.
The England striker, who wears the Nike Total 90 Laser II, was at the heart of England's 5-1 demolition of Croatia in their last qualifier during which the Manchester Utd striker scored a goal and also got an assist.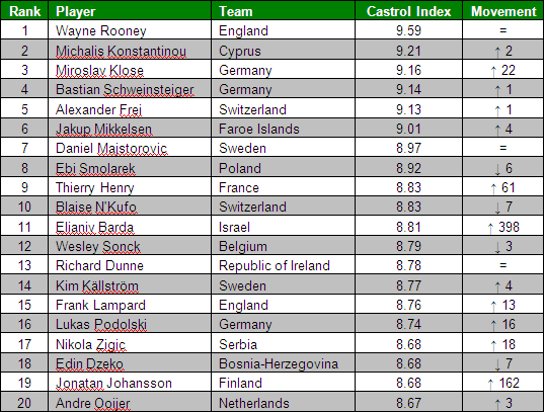 Top scorer with nine goals, the 23-year-old's performances have contributed to England's 100% record in the qualifying games thus far. Rooney has been clinical, converting almost one third of the shots he has attempted (30%). And he's been creative as well with five assists to his name.
Cyprus striker Michalis Konstantinou (Castrol Index 9.21) is a surprising second in the Castrol Index. All-time top scorer with the Cypriot national side, the adidas Predator wearer has been involved in half of Cyprus' goals in the 2010 Fifa World Cup Qualifiers. With three goals so far, he has also found the target with an impressive 85% of shots (11 of 13).
Completing the podium is Germany's Miroslav Klose (Castrol Index 9.16). He has been involved in more goals than any other German player, scoring six and setting up Lukas Podolski's crucial opening goal against Russia in October 2008. Executing three quarters of passes in the final third, his influence on Germany's forward play has been indispensable. Klose is also expected to wear the new Nike CTR360 Maestri football boot at the weekend'  in the crunch game against Russia.
Meanwhile, the Castrol data shows that Joe Hart, recently called up to the England squad as a replacement for the injured Paul Robinson, more than justifies his place.
While David James has made it clear that he is determined to continue at the age of 39, citing the success of former Italy stopper Dino Zoff who won the World Cup aged 40, the figures would suggest that Hart is very much a contender in Fabio Capello's squad for South Africa with 3 clean sheets this season, a 100% catch record and a 90 minutes per goal conceded.