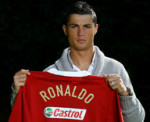 Already making a decent splash in the football world with the Castrol Index, the lubricants company has today gone a step further by signing up Cristiano Ronaldo as a Global Ambassador.
The new partnership between Castrol and the Portuguese international will run until 2011.
In his new role with the World Cup sponsors, the Manchester United star will be the face of Castrol football initiatives, will feature in new Castrol Edge and Castrol Power 1 brand communication campaigns as well as supporting the exclusive workshop range of Castrol Professional products.
As part of the deal, fans from across the globe will be given the chance to come face to face with their hero in a unique initiative that will allow them to experience the level of skill and dedication that led to him being named Fifa World Player of the Year in 2008.
Commenting on the deal and referring to the Castrol Performance Index, Ronaldo said:
I'm honoured to be working with them and am excited to see how Castrol analyse my own performances!