Cristiano Ronaldo has Christened the new CR Mercurial Vapor Superfly II Safari football boots.
In a scintillating Madrid derby, Cristiano Ronaldo showcased his new Superfly II Safari football boots for the first time in competition.
Ronaldo wasn't among the goals, but Real Madrid did triumph 2-0 over their age-old rivals. The goals came from Ricardo Carvalho and Mesuit Ozil, but the Portuguese wizard was on decent form at the Bernabeau, playing out the full 90 minutes.
All boot-spotting eyes were on the 25 year old as he took to the pitch, knowing that this was the game that Nike had promised that Ronaldo would be debuting the CR Mercurial Vapor Superfly II Safari.
Of interest to us, was what personalization Ronaldo would be bringing to a pair of football boots already designed to his exact specification.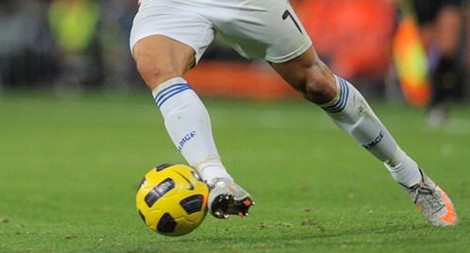 We can report, Ronaldo was wearing a customized soleplate for his first game in the bespoke Safari-print boots. He opted for the oft-talked about hybrid soleplate which uses the regular sole of the Superfly II, but adds 6 lengthy SG studs for extra traction during 'slippier' conditions.
The general consensus here at Footy Boots HQ is that Ronnie's football boots definitely look a lot more handsome in action on the pitch than in the press shots, which may help these 'wild' football boots get more exposure on local pitches.
But as always, what you think matters most! Will we see you in the new CR Mercurial Vapor Superfly II Safari?