We don't get the chance to review many nutritional products here on Footy-Boots.com, so when the guys at Footballnutra asked if we'd like to give their complete football nutrition system a go, we were a little tentative…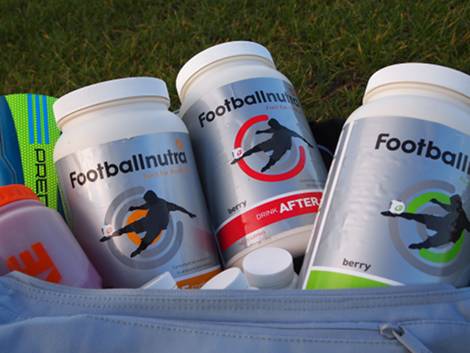 …You see, my pre-football nutritional intake usually consists of a cup of tea and a slice of toast (or a biscuit Boost if it's an evening game) – so my convern was that I wouldn't really have much to compare it to.
However, if nothing else, we love a challenge in our work – so here's our take on the' Footballnutra nutrition system…
What's included?
Included in the full spectrum of' Footballnutra is:
-' Footballnutra 'Before' Powdered Drink
-' Footballnutra 'During'' Powdered Drink
-' Footballnutra 'After Powdered Drink
-' Footballnutra 'Pre-Football Vitamins' Capsules
-' Footballnutra 'Mental Energy' Capsules
-' Footballnutra 'Electrolytes' Capsules
-' Footballnutra 'Vitamins & Minerals' Capsules
-' Footballnutra 'Glucosamine' Capsules
-' Footballnutra 'Omega 3-6-9' Capsules
The Very Good
I want to start off with the good, as there are two products in the' Footballnutra line-up that I genuinely feel would benefit any footballer.
First up; the Mental Energy Capsules.
These things are like Red Bull concentrate! As you'd expect, caffeine is part of the make up, but thanks to the balance of Ginseng and Guarana extracts and lack of sugar, you don't get any of that shaky come-down that comes with most energy drinks.
These little capsules really do clear your head of any 'Night-Before' cloudiness, and just make you feel that little sharper on the pitch. If you don't fancy going the whole hog an a full' Footballnutra 'system', the Mental Energy caps are a perfect gateaway and proof-positive that Footballnutra aren't selling Snake-oil.
Next up, I've had nothing but great feedback from on the 'After' powdered drink.
Part-still isotonic drink, part-gym-buff Creatine recovery shake this is the perfect drink for anyone whose footballing schedule is always full.
Whilst you're always going to feel a little stiff the next day, since drinking the' Footballnutra 'After' drink, really takes s0me of the lead out of your legs the morning after a game – and this is something I've had verified by the team-mates I've shared my recovery drink with.
The Good
Whilst I'm sure they're doing an outstanding job on a chemical level, I can't say I felt the benefits of the 'Before' and 'During' drinks outweighed those of similar drinks on the market.
I thought the 'Before' drink was a solid start to the morning before a game, with probably the nicest taste of all three drinks (though all of the drinks were certainly tasty) and a satisfying sugary kick to start a gameday.
The During drink reminded me of something like the Lucozade sport drinks that anyone who has ever played a sport should be familiar with – and did a great job of quenching thirst at half time.
If there was one thing' Footballnutra has in it's favour, though, it's the price. With the 'During' retailing at £19.99 and 'Before' priced at £23.99 and containing 25 portions apiece, you're never paying more for Footballnutra than you would for it's competitors.
Everything Else
As for the rest of the Footballnutra range – it's much more subjective to review; did I recover more quickly? Did I feel more energised? Perhaps! But from game-to-game these things will vary thanks to outside factors; How much sleep did I get? How much training have I done? Am I recovering from illness?
I'd be absolutely thrilled to introduce any of my team-mates or friends to Footballnutra's line of products – but I would encourage them to get themselves the range of energy drinks and the Mental Energy capsules; as I firmly believe that any footballer will not only benefit from them, but they also make the most financial sense.