Life's great isn't it? You've had a couple of sherbet's at the weekend, Euro 2008 is now underway (and with England not there, it doesn't really matter that the German's won their opening game) and today, just to start off the week in the best possible way, Footy Boots can bring you details of a brand new football boot that's about to hit the market.
Reebok may only have two contracted players in Austria and Switzerland, Thierry Henry and Ike Casillas since you ask, but that hasn't stopped the Reebok egg-heads from coming up with an 'interesting' looking football boot that will hit the shops in high summer.
It's called the Reebok Sprintfit Lite Pro and comes in red, white and gold. Nice and understated!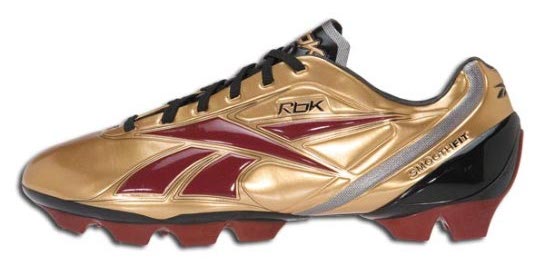 The upper is constructed of Teijin microfiber that is lightweight, breathable and water resistant. There's a HardLink for midfoot support, Reebok's patented OrthoLite insock for comfort and a sockliner cover that reduces friction and moisture.
To complete the football boot, there's a TPU (Thermoplastic Urethane) split outsole with integrated heel and bladed studs in forefoot and heel for traction on firm, natural surfaces.
And all this comes in at a weight on 9.2 ounces – until you stick 'em on of course when it jumps up a tad, particularly if you resemble any members of the Footy Boots office. There's a bloke in there who weighs over 15 stone and he's the one we call Slim.
The Reebok Sprintfit Lite Pro FG comes in at about £75 and will be available to buy in late July.
Rate these football boots