Puma V3.06 Football Boots by Alexander Gogin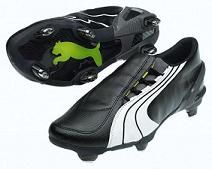 The Puma V3.06 is a mid range football boot that shares its design and many performance features with the more expensive V1.06.
Despite a significant price difference of around 50GBP, the two models can be distinguished by the upper material and the use of a cheaper plastic material in v3.06's sole plate instead of fibre glass.
Comfort: The football boot features a decent comfort and fit. It has an anatomically shaped heel counter, as well as a soft suede-like leather in the heel, ensuring a pleasant, blister-free experience.
The synthetic upper is also very supple and moulds quickly to every curve of a player's foot. However, like with any other football boot, there are some comfort related issues, too. Due to designers' aspiration to decrease the shoe's weight, the insole was chosen to be made very thin, causing strong pressure from the studs on certain parts of the foot. This might become particularly uncomfortable when wearing the SG version of the football boot.
Performance: Weighing in at an astonishing 7.5 oz, the V3.06 is one of the lightest football boots on the market and has only been outrun by its "big brother", the V1.06. A thin synthetic material with a very close fit not only provides an increased feel of the ball, but also, quite surprisingly, adds some power and swerve to the shot.
The upper absorbs very little water as well. However, despite all of these advantages, the football boot offers little protection against a hard tackle – the thin synthetic and light heel counter simply weren't designed for a rough game. The same heel counter also offers little stability in sharp turns.
The V3.06 features an innovative side lacing system, which is not actually that impressive in reality: the football boot starts to feel loose about 15 minutes into a game and usually has to be re-tied about every 20-25 minutes. The insole, already mentioned above, is not fixed and often slips to the side.
Overall, Puma is facing a lot of work if they want the V-series to reach a good performance level.
Sizing: The football boot runs about half a size smaller in length and is quite snug throughout.
Price: From £40