After the relatively tame White/Blue launch colourway of the Puma v1.10SL, Puma went to the other extreme with a Jamaica-inspired v1.10SL Lightning – so you'd think it'd be time for something tame again, right?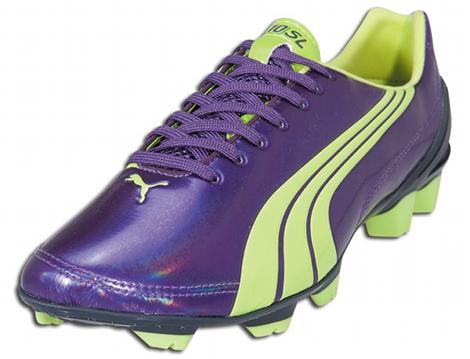 Wrong!
The new Puma v1.10SL Parachute Purple/Tender Shoots/Ebony looks as bonkers as it sounds!
The v1.10SL currently sits at the top of the pile as the lightest football boots in the world, and we think Puma are finally trying to let the world know it with this super-bold colourway!
With a slick Parachute Purple upper, the v1.10SL is certainly going to stand out on the pitch anyway, but the bright green 'Tender Shoots' detailing is very bright indeed!
On that subject, is it just us, or are football boots' colourway names getting progressively more ridiculous? I mean, we let Puma off with Leprechaun Green earlier this year on the Puma King Unity XL, but 'Tender Shoots'? I think it's time for Puma to remember that they're marketing to people, not Pandas!
The v1.10SL hasn't had a massive uptake by the professionals since it's launch but those who have worn it usually play with devastating effect. Take Samuel Eto'o, who's currently having the season of his life since switching to the new Puma football boots.
The Puma v1.10SL Parachute Purple/Tender Shoots/Ebony launches on October 30th and we're sure these are going to be a popular colourway for the German brand, so be sure to get your hands on them quick!
PUMA V1.10 SL – PARACHUTE PURPLE/ TENDER SHOOTS, 7.6 out of 10 based on 38 ratings