After a long, protracted and borderline political saga, it finally seems as though Puma and the South Africa Football Association are ready to put pen-to-paper on a technical sponsorship agreement.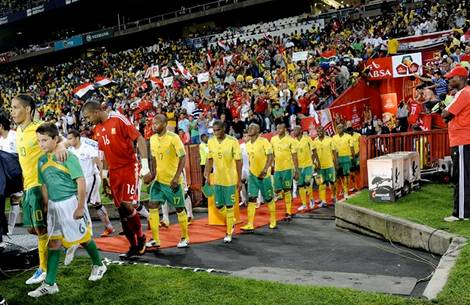 Following one of the most 'on-again, off-again' negotiations we've ever seen here on Footy-Boots.com, it would seem that Puma are hard at work finalising the designs of the new Bafana Bafana kits, if the SAFA are to be believed (which they aren't always, if this saga has taught us anything).
This verification comes from vice-president Chief Mwelo Nonkonyana, who said that Puma was planning to make a huge song and dance over adding Bafana to their already-impressive portfolio of African football teams, and snatching them from arch-rivals adidas.
"This is the reason why the association has still not been able to officially announce the sponsorship", VP Nonkonyana said, "Let me first confirm that the deal with Puma has been finalised and there are no longer any loose strings around that. But we cannot announce it here in South Africa until Puma has launched the jersey in London first"
"They want to go big with this and that is why it has taken so long."
"Some Bafana players will also be consulted around this," Nonkonyana said. "Puma are now hard at work because we told them we do not want a natural team jersey that is sub-standard and looks like every other strip out there."
South Africa hosted reigning African Nations Champions Egypt this past weekend, still kitted out in the adidas kit that they wore as the host nation of the 2010 FIFA World Cup.
For those out of the loop, the South African Football Association's contract with adidas expired on December 31 but Nonkonyana admitted that they would be forced to continue using the old Bafana jerseys until Puma finally launches the new one.
"A deal has been reached between us and Adidas and that means we will keep using their jersey. Puma have got no problem with that and they do not mind seeing Bafana playing in that jersey."
The presence of the famous Three Stripes of adidas continues to be a source of embarrassment for the SAFA, who have maintained a strained relationship with the German brand after a falling out over the SAFA telling adidas to'  'Protea' emblem of South African sports to save money on licensing.