Ahead of the European Championships, Puma have given one of their breakout boots of the last 12 months a bit of an upgrade, as they launch the Puma PowerCat 1.12 SL.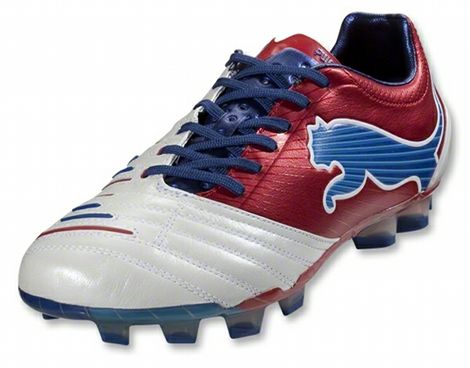 Set to be worn by Cesc Fabregas, Giorgio Chiellini, Marco Reus and Phil Jones in Poland & Ukraine this summer, the PowerCat 1.12 SL takes everything that we loved about the version that launched in December and tunes it for exceptional performance.
As if you hadn't already noticed, the PowerCat 1.12 SL launches in the same White / Ribbon Red / Limoges as the new evoSPEED 1, which – along with a new King SL colourway – will give the Puma range a unified look over the summer.
Rather than a huge overhaul like the King SL is over the King Finale, the PowerCat 1.12 SL is more of a subtle upgrade, giving the PowerCar a drop in weight and an increase in comfort.
One of the only complaints we had from people who owned the original is that the upper was a little stiff out of the box on first wear. Puma have taken that on board and rolled out a new super-soft, super light K-leather on the SL, making them pitch-ready straight out the box.
A hit with everyone from goalkeepers like Buffon to creative mids like Fabregas, Puma have obviously set out to ensure that the PowerCat SL retains all the things that made the 1.12 such a favourite.
Packing the same injected PEBAX heel counter and Power DUO shooting system, the Puma PowerCat 1.12 SL is every bit the boot you'd expect it to be, just slimmed down to 8.4oz / 238g weight for maximum performance.
Launching June 1st, you can pick up a pair for £180 / $210 US.
PUMA POWERCAT 1.12 SL, 8.8 out of 10 based on 31 ratings