Following on from the stunning Cedella Marley-designed evoSPEED 1's we saw last week, Puma have once again pushed the boundaries of design with their latest football boots; the Puma PowerCat 1.12 Gravity.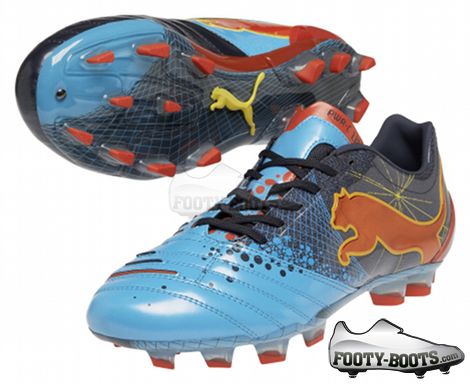 Coloured in two stunning shades of blue, the Puma PowerCat 1.12 Gravity goes where few other boots dare with a striking mix of clashing colours and all-over graphic prints.
Following on from the PowerCat 1.10's Tokyo and Elektro and the Munich 1.12, the Puma PowerCat 1.12 Gravity joins a rapidly-expanding family of PowerCats boasting designs that are like nothing else on the pitch.
Splattered in a rust-coloured orange that contrasts against geometric blue shapes, Puma have created a boot that really does stand out – no small achievement in today's marketplace.
Packing all of the technology you'd expect from a PowerCat, including the new PST DUO technology for combined power and control, the Puma PowerCat 1.12 Gravity is every bit a performance boot as it is a sight to behold.
The only difference between the PowerCat 1.12 Gravity and the 'vanilla' version, is that the Gravity uses a synthetic microfibre upper, instead of super-soft performance K-Leather.
Available from today, you  can expect to pay £134.99  or $220 US for the PowerCat 1.12 Gravity.
What do you think of Puma's latest?
Let us know in the comments!
PUMA POWERCAT 1.12 GRAVITY, 7.9 out of 10 based on 35 ratings