David Bentley has got some. So has Michael Carrick. Nemanja Vidic has got in on the act as has Stephen Hunt and Emmanuel Eboue.
What are we on about – the new Puma King XL football boots in a gold, black and white colourway.
True, they have been around for a few weeks now, but when Puma sent us the Michael Carrick artwork (as below) we just had to find a reason to show it to you.
Celebrating 40 years on the shelves this year, the Puma King XL scored highly on our recent poll of 'classically styled' boots.
The Puma King XL (XL stands for Roman numeral 40) football boot stands for quality, heritage and tradition. The newest edition includes classic lines and traditional styling, but with updated materials, enhanced features and new design details.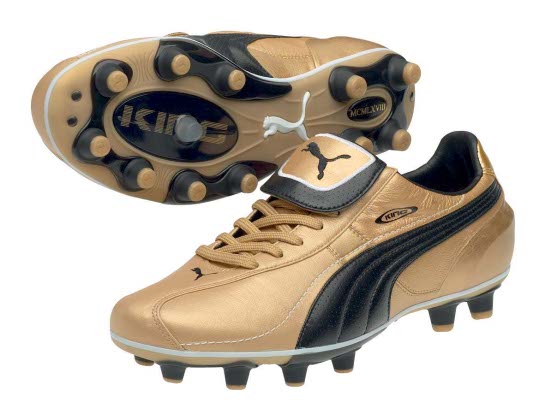 With raised bead line, toe overlay and lateral stability insert inspired by the Eusebio boot 40 years ago, the King XL is executed with today's best production technology. Super-soft, ultra-thin full-grain leather is complemented by a high-density silicon heel counter and conical firm ground stud construction for optimal stability and manoeuvrability.
The upper is embossed with a leaping cat logo on the vamp and King logo on the lateral side – with the limited edition version featuring the "Eusebio 68 signature.
The Puma King XL football boots retail at £89.99.