In stark contrast to their King Top '98 LE's which were revealed last week, Puma have dispensed with the niceties and given us a 'proper' colourway – the Puma King Top Di – Black / Gold.
If looking at all the different colours of bright boots on show this summer has left spots on your eyes, Puma's new King is pretty much the ultimate pallet-cleanser.
Looking just about as premium as it gets, the Puma King Top Di – Black / Gold is black from the tips of the studs to the lace aglets.
The perfect amount of gold branding crests the tongue and picks out the branding on the flank of each shoe.
And it's not just the colourway that's old-school, either.
Whisper it, Puma's King Top Di's still use premium Kangaroo leather for an uncompromising touch on the ball.
Whilst the soleplate is more-or-less unchanged over thirty years, with conical studs attacked to the bottom boot via classic rivets.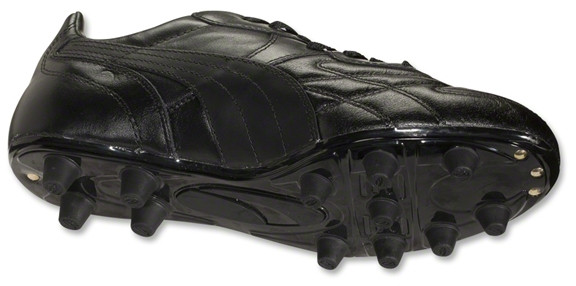 Puma also retain the stitching pattern that helped define the series as a classic, with the leather pinched, formed and quilted by the thread for comfortable flex in the forefoot and cushioned touch on the vamp.
Currently on pre-order from early July, expect to pay £109.99 or $149.99 for a pair of Puma King Top Di – Black / Gold in the UK or US.
Thoughts on this new colourway?
Drop us a comment and let us know!
PUMA King Top Di – Black / Black / Gold, 8.6 out of 10 based on 18 ratings