The onslaught of Puma Euro 2012 releases continues, as the new Puma King SL – White / Red / Limoges is the latest to be unveiled by the Big Cat!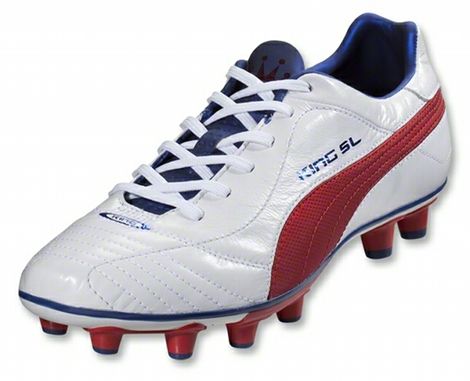 Continuing Puma's incredible run of form when it comes to King SL colourways, the White / Red / Limoges follows up from the lethal-looking Black/Corsa Rosso colourway with something a little brighter.
As well as fitting in with the colour palette set out by the new evoSPEED 1, we can't help but feel this classic colour combo look right at home with the Kings.
With Puma a brand on the up, we hope that we see these cleats matched with a few kits over the summer, with the White / Red / Limoges a perfect match for the likes of the US, Russia, and even the Team GB Olympic kit!
At 225g, the Puma King SL is the lightest football boot ever to bear the King name, and thanks to a number of nifty weight-saving tricks it keeps that same level of performance.
It's also the same level of comfort that we've come to love from Puma, who have vastly upped their game in the boots market over the last 18 months.
Expect to pay somewhere in the region of £160 / $200 US for the Puma King SL – White / Red / Limoges, which is released on June 1st 2012.
PUMA KING SL – WHITE / RED / LIMOGES, 8.5 out of 10 based on 7 ratings